OSCE voices concern over ceasefire violations on Armenian-Azerbaijani border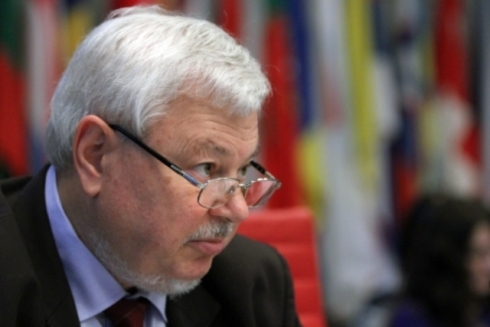 By Sara Rajabova
The Organization for Security and Co-operation in Europe (OSCE) has voiced concern over the recent escalation of tensions on the contact line of Armenian and Azerbaijani troops.
Personal Representative of the OSCE Chairperson-in-Office, Andrzej Kasprzyk said in an interview with local media that OSCE Minsk Group is seriously concerned about the killing of the civilians on the frontline.
"The co-chairs of the Minsk Group met separately with the foreign ministers of Armenia and Azerbaijan in Brussels on July 22. They expressed their serious concerns about the growing tensions, including the targeted killings of civilians along the Armenian-Azerbaijani border. They urged the parties to avoid casualties and stop deliberate targeting of villages and civilians. They called on both sides' foreign ministers to defuse tensions and adhere to the terms of the ceasefire," Kasprzyk said.
He went on to note that the conflicting parties must respect the ceasefire agreement.
Kasprzyk voiced his readiness to take part in any effort to stop ceasefire violations. He said local commanders are provided with a chance to hold talk directly using OSCE radios during monitoring and clarify issues of their concern, or to support any measures that the parties might consider useful to lower the number of ceasefire violations.
Kasprzyk further noted that he is following closely the fate of Azerbaijanis taken hostage by Armenian forces in the occupied Kalbajar region.
He said the chairmanship of the OSCE and the co-chairs of the Minsk Group are informed on the related developments.
Three Azerbaijani civilians (reportedly Russian citizen Dilgam Asgarov and Azerbaijani citizens Shahbaz Guliyev and Hasan Hasanov) were detained by Armenian forces in early July. Hasanov was killed by Armenian servicemen. The International Committee of the Red Cross (ICRC) Baku office reported that Hasanov has been buried in Nagorno-Karabakh.
Representatives of ICRC met with Azerbaijani civilians Dilgam Asgarov and Shahbaz Guliyev taken hostage by Armenian forces and delivered their letters to families.
Armenia violated the international legal norms by taking hostage the Azerbaijani civilians as they didn't violate any border law between Armenia and Azerbaijan. They were on their own native Kalbajar region while being arrested.
Armenia captured Nagorno-Karabakh and seven surrounding districts from Azerbaijan in a war that followed the Soviet breakup in 1991. More than 20,000 Azerbaijanis were killed and nearly 1 million were displaced as a result of the war.
The large-scale hostilities ended with a Russia-brokered ceasefire in 1994 but Armenia continues the occupation by defying four UN Security Council resolutions calling for immediate and unconditional withdrawal from the occupied lands.
Peace talks mediated by Russia, France and the U.S. have produced no results so far.