25 July 2014 13:05 (UTC+04:00)
1 264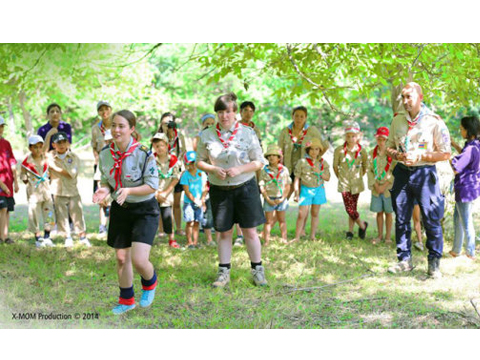 By Nigar Orujova
Scouts from around the world attended "Wonderland 2014 Azerbaijan" in southern Lerik region.
The International Scout Camp "Wonderland 2014 Azerbaijan" co-organized by the Association of Scouts of Azerbaijan and the Ministry of Youth and Sport was held on July 10-17.
The camp gathered together skilful youth from Turkey, Georgia, Moldova, Belarus, Ukraine, Kazakhstan, Kyrgyzstan, Bangladesh, Egypt, Pakistan, Palestine, Tunisia, Kenya, Chad, Tanzania, Southern Africa, Guatemala, Poland, Hungary, Liechtenstein and Australia as well as from different regions of Azerbaijan.
The great contribution of scouting motivated the young people to create a harmonious world and respect to traditions, customs and religions of other nations, develop love and tolerance for other people.
Young participants shared their experiences, learned something new and found new friends during the eight-day program in the camp in the woods of Lerik.
The camp's program included orienteering, climbing, archery, tracking, several social events and competitions, as well as sightseeing in Lerik and Lankaran and studying the unique culture and traditions of the region.
Lerik region gave scouts a real chance to shortly stay away from urban life, have a breath of fresh mountain air and enjoy the view of the majestic mountains, rapid rivers and noisy waterfalls.
Moreover, at an Evening of nations the participants spoke about the culture and traditions of their country, presented the peculiarities of their national fashion, cuisine and exchanged souvenirs with others.
Last year, Wonderland camp gathered 120 young people from Ukraine, Moldova, Georgia, Poland and other countries in the northern Azerbaijani region of Shaki in August.
The Association of Scouts of Azerbaijan (ASA), the national Scouting organization of Azerbaijan, was founded in 1997, and became the 150th member of the World Organization of the Scout Movement in August 2000. The first scout camp in Azerbaijan was organized in the Nabran region.
The ASA plays a great role in educating the new generation. It has more than 1,400 members from all over Azerbaijan. It has implemented and held over 200 projects and events so far.