"Azerbaijan Land of Fire" brings good luck to Atlético Madrid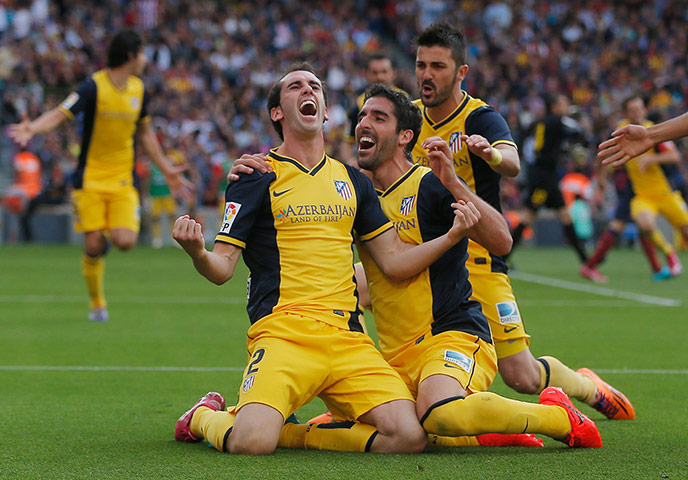 By Nazrin Gadimova
Azerbaijan's bid for the Spanish Atlético Madrid proved to be successful after Atlético's deafening victory over Barcelona on May 17.
Atlético Madrid's stunning run for the Champions League final proves the success of Azerbaijan's sponsorship deal concluded in late 2012.
Atletico's players will face Real Madrid on May 24, and an expected global TV audience of 175 million will see "Azerbaijan Land of Fire" on their shirts in Lisbon.
Not so long ago, the team renewed its deal with Azerbaijan till 2015. It included not only shirt sponsorship, but also wider strategic agreement that saw the Atlético squad and coaching team traveling to the country last spring and a plan to train young Azerbaijani footballers in Madrid and Baku.
Atlético is not the first of the last project in Azerbaijan's plans. The main objective of the country is to make its capital a host to the matches of Euro 2020 and the Olympic Games at the same year.
Sepp Blatter made ​​his first visit with Michel Platini to Baku after his re-election as FIFA president in 2011.
In 2012, Baku hosted Junior World Cup (U17) and the first tournament under the auspices of FIFA, which was opened and closed by Jennifer Lopez and Shakira respectively.
So do not be surprised when you see the familiar inscription "Azerbaijan Land of Fire" on the sides of the stadium during the qualifying matches for Euro 2016 and the 2018 FIFA World Cup.
Moreover, SOCAR's brand name will appear during the Euro 2016 after Azerbaijan's state energy giant signed a sponsorship agreement with UEFA. SOCAR's name will appear on pitch-side advertising at most 2016 European Championship and 2018 World Cup qualifiers in Europe beginning from September 7, New Zealand Herald reported earlier.