17 April 2014 11:44 (UTC+04:00)
1 765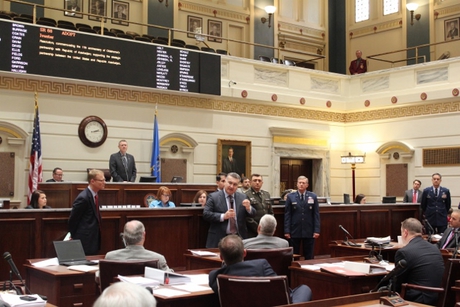 By Sara Rajabova
The Senate of the U.S. State of Oklahoma has passed a resolution commemorating the 11th anniversary of Oklahoma's partnership with Azerbaijan.
The resolution supported the strategic partnership between the United States and Azerbaijan, AzerTag state news agency reported.
The document called on the U.S. government to further strengthen this bilateral relationship in the areas of politics, economics, trade, energy, culture, defense and security.
Introduced by Senator Tom Ivester, the resolution was signed by all senators. It was passed at a session of the Senate of the State of Oklahoma, which was attended by top ranked officials of the Oklahoma Military Department and a delegation of the Azerbaijani Embassy in Washington.
The resolution said Azerbaijan, the largest country in the Caucasus region, is located in a strategically important South Caucasus region.
It further said over the past 21 years, the U.S. and Azerbaijan have strengthened their partnership through bilateral cooperation in the political, security, economic and commercial spheres.
The document went on to say that Azerbaijan has strengthened its sovereignty and political independence becoming an important strategic partner for the U.S. in the region and in global affairs.
The U.S. developed multi-faceted cooperation with Azerbaijan, ranging from the fight against international terrorism, drug trafficking and human trafficking to nonproliferation of weapons of mass destruction, the resolution said.
It noted that the State of Oklahoma recognizes the outstanding achievement of the State Partnership Program (SPP) with Azerbaijan, under which the Oklahoma National Guard maintains a relationship with Azerbaijan's Armed Forces.
The document stressed that Azerbaijan is a key player in the Eurasian energy market and a reliable partner for global and European energy security.
The resolution praised Azerbaijan as "a role model of intercultural dialogue, where various ethnic and religious communities have peacefully coexisted for centuries".
The Oklahoma State Senate called on the U.S. Government to further strengthen this bilateral relationship in the areas of politics, economics, trade, energy, culture, defense and security.
Speaking to the session, Brigadier General Gregory L. Ferguson, Chief of Staff of Oklahoma Air National Guard of Oklahoma Joint Force Headquarters, said Azerbaijan was the United States` major strategic partner in the region.
Azerbaijani Ambassador to the United States, Elin Suleymanov expressed confidence that the resolution would lay a solid foundation for further development of relations between Azerbaijan and the State of Oklahoma.
He said Azerbaijan was interested in diversifying its cooperation with the State of Oklahoma.
In Oklahoma, the Azerbaijani delegation also met president of the Senate Brian Bingman, and visited the headquarters of the Oklahoma Military Department.
Related News