ANAMA neutralizes 31 mines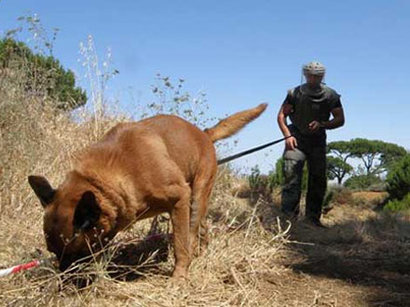 By Nazrin Gadimova
Some 31 mines were found in Azerbaijan in March during de-mining work, the Azerbaijan National Agency for Mine Action (ANAMA) reported.
Some 2,315,700 square meters of lands were checked in Azerbaijan last month and cleared of unexploded mines and ordnance. The operations resulted in detection of 589 unexploded ordnance, 29 anti-tank mines and two anti-personnel mines.
The de-mining operations involved 484 sappers and 118 support staff members, six special vehicles for searching mines and 36 specially trained dogs, according to the message.
Some 252,725,499 square meters of Azerbaijani territories have been cleared, and 689,672 mines and unexploded ordnance were detected and neutralized.
The de-mining activities continue in the Agdam, Agstafa, Agjabadi, Fizuli, Gabala, Hojavend, Lankaran, and Tartar districts. The work in the Guzdek village of Baku's Garadagh district is also currently underway.
ANAMA was established in 1998 under the State Commission for Reconstruction and Rehabilitation of war affected territories. Being responsible for planning and coordination, management and monitoring of mine action related activities all over the country, ANAMA is the executing agency for the Azerbaijan Mine Action Programme, the joint project of the Government of Azerbaijan and UNDP signed on April 2, 1999. The Agency operates according to the Azerbaijan National Strategic Plan and ANAMA Principles.
The main goal of the organization is to create a national mine action capacity capable of planning, coordinating and managing all mine/UXO related activities in the currently liberated areas, and enable it to expand into areas yet to be liberated.