Baku subway expects large scale passenger growth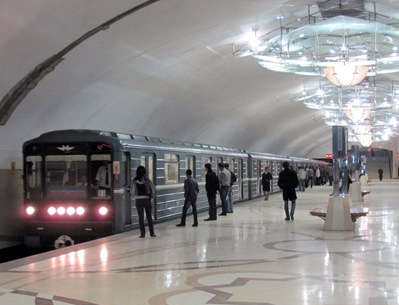 By Nigar Orujova
Baku subway trains carry 38,000 passengers a day in the peak periods at present, Baku Metro said on October 3.
"The figure is inevitable to reach 48,000 in 2016 and 80,000 people in 2030 unless appropriate actions are taken," Baku Metro said.
These predictions will come true if Baku population continues growing by 2.5 percent per year.
Currently 8-10 passengers share one square meter of the wagon in Baku Metro, which does not meet safety requirements, the source added.
According to European standards in terms of safety and comfort, the number of passengers transported by the subway for an hour should be six passengers per square meter of the wagon.
All these forecasts and estimates were included in the 20-year program of development of Baku Metro to tackle these problems.
Two additional stations will be commissioned next year in a Violet Line -- Avtovokzal and Memar Ajami-2, while three more stations will open in the next two years.
Over the next five years, Baku Metro plans to launch 11 new stations.
Eight new stations will be put into operation in the next three years and then three more stations will be commissioned. Five stations will be put into operation in the framework of a Violet Line, while the remaining six will continue the Green Line, Baku Metro said.
Furthermore, tunnels are constructed in the direction of the Yeni Guneshli and Kohna Guneshli settlements to stretch Green Line. Construction is underway in the Khatai-Hazi Aslanov area.
Functioning for about 46 years the Baku Metro is currently 34.6 kilometers long with 23 stations functioning in the Green and Red lines. The number of subway lines is planned to be increased from two to five, the length up to 119 kilometers, and the number of stations up to 76 by 2030.