16 July 2013 18:26 (UTC+04:00)
1 458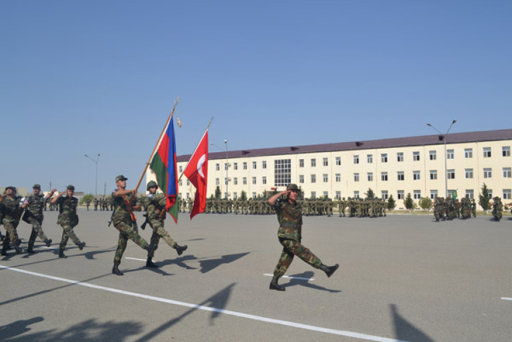 By Sabina Idayatova
The opening ceremony of Azerbaijan-Turkey joint military exercises was held at Garaheybat Training Center of Azerbaijan's Defense Ministry on July 16.
Addressing the event, Chief of Main Operation Department of the Armed Forces, Maj.-Gen. Eyvaz Jafarov, said that the Azerbaijani-Turkish relations are developing at a high level, the Defense Ministry said.
Jafarov also said the meetings of Azerbaijan-Turkey High Level Cooperation Council held in Izmir in 2011 and in Gabala in 2012 with the participation of the leaders of the two countries are of great importance.
The joint large-scale military exercise, which is being carried out for the first time, is a result of the decision made at the highest level. During the event it was also noted that by conducting these exercises the sides are fulfilling the important tasks vested in them by the leadership of the two countries.
Eyvaz Jafarov also said that these exercises are very important from the viewpoint of increasing the combat readiness of Azerbaijan's Armed Forces, achieving coordination of operations as well as ensuring the security and stability in the region.
From now onward Azerbaijani-Turkish joint military exercises will be held each year in turns in Azerbaijan and Turkey.
Military cooperation between Azerbaijan and Turkey was established in 1992 with an agreement on military education signed between the Azerbaijani and Turkish governments. Since then, the two governments have closely cooperated on defense and security.
Since 1992, Azerbaijan and Turkey have signed more than 100 military protocols. The inked documents include a 1997 border protocol, a 2001 protocol between the Ministry of Defense of Azerbaijan and the General Staff of Turkey, a 2002 document between the same government agencies on cooperation in the area of war history, military archives and museum work, as well as a 2003 document between the governments of Azerbaijan and Turkey on training and assistance for Azerbaijan's State Border Service by Turkey's Armed Forces.
In June 2010, Azerbaijani military company Azersimtel announced that it had reached agreement with Turkish Mechanical and Chemical Industry Corporation (MKE) on launching a joint military facility.
According to former Turkish Defense Minister Vecdi Gonul, Turkish military assistance to Azerbaijan exceeded $200 million as of 2010.
In 2011, Azerbaijan and Turkey signed an agreement on joint production of long-range missiles. The deal envisioned joint production of 107 and 122 mm missiles by an Azerbaijani ministry and Turkish weapons manufacturer Roketsan.
More than 20 Turkish defense industry companies have cooperation and commercial relations with Azerbaijan.
Related News