28 June 2013 09:45 (UTC+04:00)
1 954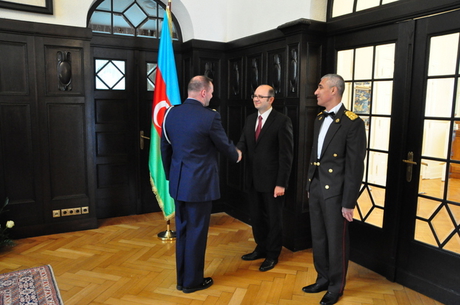 The Azerbaijani embassy in Germany has organized a celebrative event on the occasion of the 95th anniversary of Azerbaijani Armed Forces.
Speaking at the event, ambassador Parviz Shahbazov said Azerbaijan`s national army established 95 years ago is the guarantee of the Azerbaijani independent, democratic and secular state.
Azerbaijan is rapidly developing and pursues independent foreign policy, he said.
He said that thanks to the modernization course realized by President Ilham Aliyev political and economic reforms in Azerbaijan are successfully being continued.
Touching upon the Armenia-Azerbaijan conflict over Nagorno-Karabakh, he said Azerbaijan backs liberation of its occupied territories by diplomatic means.
"Azerbaijan`s strong army strengthens its diplomatic situation even more", he added.
Representative of the military attaché of Azerbaijan, colonel-lieutenant Ilgar Agayev spoke of the history and current situation of the Azerbaijani Armed Forces, as well as reforms being conducted according to NATO standards.
He also hailed Azerbaijan`s military cooperation with Germany.

Related News