Azerbaijani children need more summer camps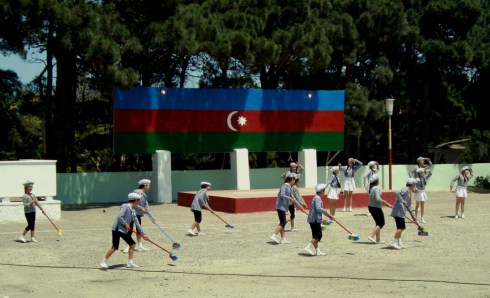 By Nigar Orujova
Azerbaijani children are enjoying their favorite summer season. Schools closed on May 31 and after nearly a year of sitting at school desks, over one million children are entitled to free pastime for more than three months, until September 15.
Every child wants to have fun during this time and enjoy entertainment in order to be healthier and happier before the new academic year. However, staying at home for three months is definitely not what children dreamed about during the school year.
Travelling, socializing with their peers, playing and physical activity are mostly favored by children. Yet, when children are on vacation, some parents are still working and cannot pay enough attention to their beloved kids.
One of the best ways out of the situation is to send children to a summer camp where the child will be safe and sound having fun and socializing.
But another problem emerges here: there are not enough summer camps in Azerbaijan, and some ten camps cannot offer summer holidays for all Azerbaijani schoolchildren.
In the Soviet period, summer camps were under the supervision of the trade unions and children of the working parents were sent to these camps.
After gaining independence, Azerbaijan has some 50 summer camps, with 16 located on the Caspian Sea shore.
However, after the invasion of 20 percent of territory in the Nagorno-Karabakh conflict with Armenia, more than one million Azerbaijanis became refugees. A lot of these people came to live in the capital city where they settled in summer camps and hostels.
The Azerbaijani territory is still under occupation and summer camps are not available for the children.
The situation is different in other post-Soviet countries, where summer camps are still operating, with most of them having become private.
The Azerbaijan Trade Unions Confederation says it sends some 6,000 children a year for vacations. However, the figure is still low.
MP Sattar Mehbaliyev believes that it would be better to re-establish anew the Soviet-era summer camps in Azerbaijan.
Reconstruction of a children's camp for one of Baku's children's homes was carried out in 2012, and now the camp has all the conditions for summer vacations.
There was also a practice of organizing school-side summer camps which are still active in the country's regions.
These camps are active not all day long and do not include catering. However, such an alternative is better for children than staying home throughout the summer.
Another widespread option in the country is sending children to stay with relatives in the country's regions. However, not all families have this opportunity. Moreover, this kind of rest, of course, cannot compare to the fun children have spending several weeks in a camp.
One of the most active children's summer camps functioning in Baku is the camp of the Interior Affairs Ministry named after Azerbaijani journalist Chingiz Mustafayev. The camp is open to any child but provides 50 percent discount for the Ministry employees' children.
Iman, a 15-year old boy who went there for two consecutive years, says that the atmosphere is nice and friendly and it is fun to spend a month playing games with other children, making new friends and participating in events.
But this camp can receive only 300 children a year, which is certainly not enough for a growing city.
The other option is to send children to camps and summer schools abroad, however, the prices charged there are not affordable for most of the population, varying from $1,000 to $2,000.
At camps children are physically active, build self-confidence, and gain resiliency, moreover, they stay away from technologies for at least a month, which helps to discover their creative abilities. Also, after visiting a camp children become more independent and socially active. All children deserve to try it out, so, we hope that in the near future all Azerbaijani children will have such a great opportunity.