ASAN services to be available to order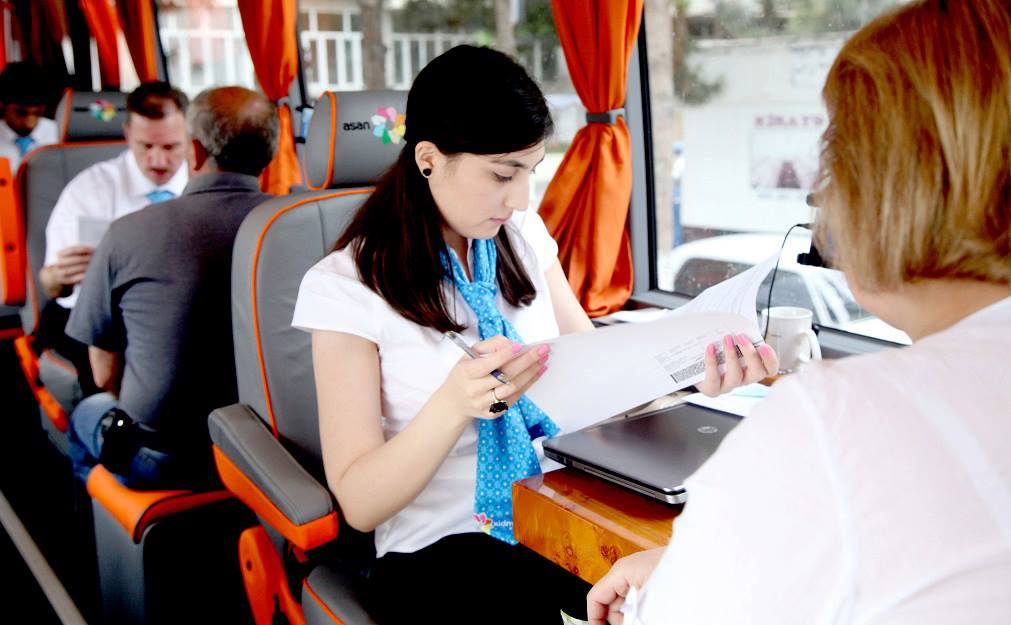 By Nigar Orujova
ASAN Service is planning to start providing services to order and through ASAN cards, Head of the State Agency for Public Services and Social Innovations under the President of Azerbaijan, Inam Karimov, said at a briefing over the start of a new ASAN service center's activity in the Khatai district of Baku.
The first ASAN Service center, which successfully ensures unified and coordinated provision of services by state bodies, was established under the Agency in January.
The Khatai service center was opened on May 24 to serve residents of Khatai, Nizami and Surakhani districts of the capital city.
According to Karimov, it is also planned to render services using specially equipped vehicles, like the mobile ASAN service.
"To provide these services some changes are to be made to the legislation," he said. "It is necessary to solve very quickly the issues of liability, recreation and service fees, then the vehicles specially equipped with technical devices will provide services to the population in Baku."
The services will be provided for an additional fee. However, these services will be free of charge for the special groups of people, including persons with disabilities and people with limited mobility, Karimov added.
Speaking about the ASAN cards, Karimov said the work on their issue is in progress.
"These cards will be issued after a number of technical matters are solved. The cards will facilitate the everyday lives of citizens. Sometimes a citizen needs to carry a few cards for payments or other purposes. The ASAN cards service will involve storing information that citizens keep in several cards," he said.
The ASAN service No.1 has served some 120,000 people since its establishment, while the center in the industrial city of Sumgayit has provided services to 18,000 citizens.
A third ASAN center in Baku is expected to open in August, and it is also planned to open a center in the country's second largest city, Ganja, by the year-end. Mobile centers are also operating in the regions.
Special buses equipped with modern technologies were brought to Baku from Istanbul in April jointly by ULTRA company and ASAN Service.
The buses are unique especially from the viewpoint of IT infrastructure. IT equipment and productivity of all vehicles, which were provided with technical support of ULTRA company, offer special opportunities to ASAN Service staff and the citizens who will use the mobile service.
The creation of IT infrastructure with wireless equipment has played a significant role in this project. Solar batteries were placed on the upper side of the buses and used for ensuring uninterrupted operation of the system.
The ASAN service centers render access to 25 services that are provided by nine state entities without extra expenses and loss of time. The centers are open from 10:00 AM until 20:00 PM and until 17:00 PM on Sundays.
In addition, ASAN has 22 auxiliary services, including opening bank accounts, currency exchange, banking services for payments of state fees and penalties, real estate and car insurance, legal advice, medical services, and translation services.