President Ilham Aliyev receives Executive Director of UN Human Settlements Programme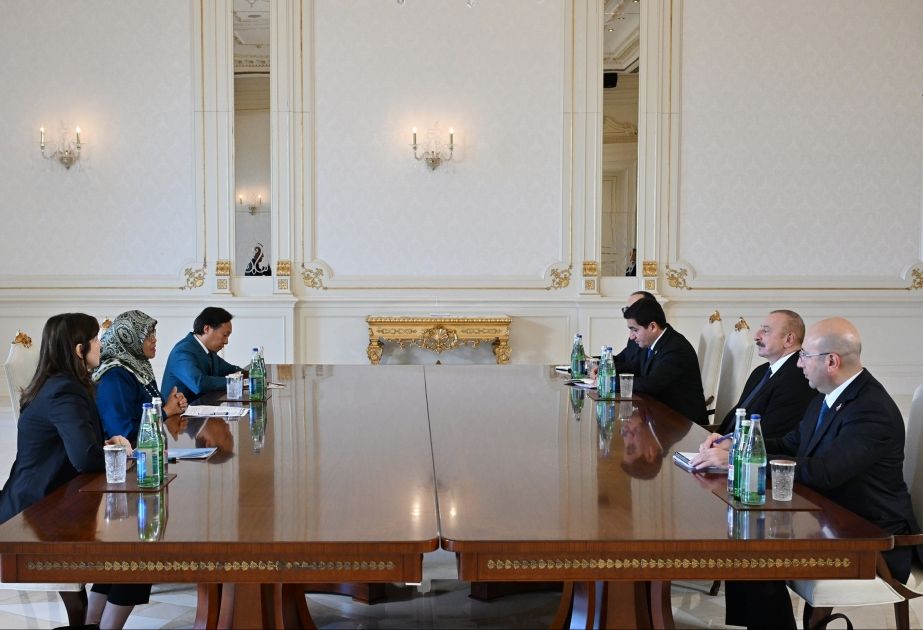 President of the Republic of Azerbaijan Ilham Aliyev has received Executive Director of the United Nations Human Settlements Programme (UN-Habıtat) Mrs. Maimunah Mohd Sharif.
President Ilham Aliyev expressed satisfaction with Maimunah Mohd Sharif's visit to the country.
The head of state described the conduct of the Second Azerbaijan National Urban Forum as a positive step, adding the first forum had been successfully organized in the city of Aghdam last year. The Azerbaijani President noted that the agenda of this year's forum to be held in Zangilan is very rich, saying the meeting of ministers for architecture and urban development from member states of the Organization of Turkic States would be held as part of this event.
President Ilham Aliyev indicated Azerbaijan's marking the World Habitat Day as a positive step.
Maimunah Mohd Sharif labelled Azerbaijan's support for this organization's activities and the country's financial assistance as a positive step.
President Ilham Aliyev noted that the Azerbaijani government would continue to support the organization's activities.
Maimunah Mohd Sharif provided information about the UN-Habitat's work done with respect to various aspects of the "smart city" concept. She also expressed gratitude that Azerbaijan would host an event in connection with the World Habitat Day. She highlighted the importance of the Second Azerbaijan National Urban Forum to be held in Zangilan, saying that this event would create a good opportunity to discuss the urbanization-related processes taking place in the world. Speaking about her recent participation in the Sustainable Development Goals summit in New York, Maimunah Mohd Sharif emphasized that there was a broad exchange of views on the issues of climate change and urbanization at that event, and that these topics are closely associated with the work carried out in Azerbaijan.
Noting that climate change and urbanization are very important issues for Azerbaijan, the head of state said that large-scale reconstruction works had been carried out in the liberated Azerbaijani lands since last year's visit of the Executive Director of the United Nations Settlement Program to the country. Emphasizing that former IDPs have already been resettled in 2 cities and 3 villages and that this process is ongoing, President Ilham Aliyev expressed his hope that Maimunah Mohd Sharif would closely get acquainted with the work being accomplished in this field during her visit to Azerbaijan.
Touching upon the issue of climate change, the Azerbaijani President underlined that the progress achieved by the country in the field of renewable energy also contributes to this issue. The Azerbaijani leader noted that 2 projects related to the solar and wind power generation of about 500 megawatts are being implemented in the liberated territories of Azerbaijan.
---
Follow us on Twitter @AzerNewsAz