Ecology & Natural Resources Minister and bp's regional president plant trees in Samukh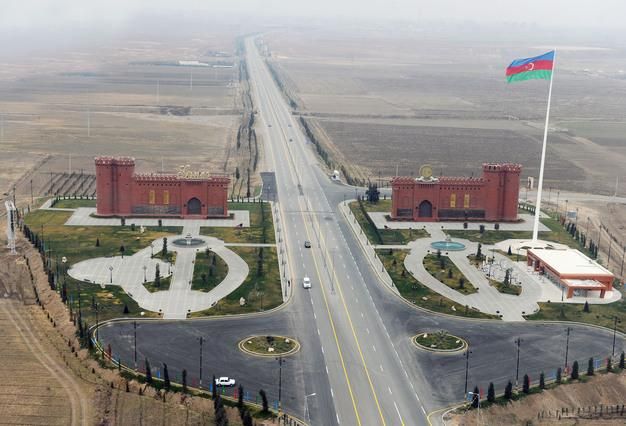 On 4 May, the Minister of Ecology and Natural Resources of Azerbaijan Mukhtar Babayev, and bp's regional president for Azerbaijan, Georgia, and Turkiye Gary Jones visited one of bp and its co-venturers social investment project sites - the Green Heart tree planting area in Chobanabdalli village of Samukh district, Azernews reports.
Together, they toured the area, briefed about the progress of the project, and planted 100 Paulownia trees.
The Green Heart tree planting project is a two-year environmental program aiming to offset carbon emissions by preventing soil erosion and desertification. The project is about planting 251,000 new trees and providing care for the existing 110,000 trees planted earlier in Samukh as part of phase 1 of the project. In addition, an innovative tree planting system with water-preserving equipment and an advanced planting technique will be created on one hectare of selected territory in the Gobustan district. The project progress to date includes 50,200 trees planted in Samukh, 170,000 in Shamkir, and 1000 trees in Gobustan.
Following the tree planting campaign in Samukh, Gary continued to accompany Minister Babayev and joined him in his next event in Yevlakh, during which they together released 100,000 fish into the Kur River.
These two events were part of Gary's two-day trip (3-4 May) to bp-operated facilities and social investment sites along the Baku-Tbilisi-Ceyhan (BTC) and South Caucasus Pipeline (SCP) projects.
The first stopover on the trip was the BTC pump station in Yevlakh where Gary toured the facility and received a full update on the safety and operational performance of the pump station. He then met with the personnel and led a village hall during which he discussed safety, operations, and other key business-related activities. Gary also recognized a number of site personnel representatives and teams for their excellent performance, delivery, and commitment to safe and reliable operations.
Upon arrival in Ganja, Gary visited Ganja Autism Centre supported by bp and its co-venturers in its capacity-building efforts. He met with the staff and discussed the scope of services the center provides in support of relevant families and communities.
The focus of the second day of the trip was to get acquainted with the progress of bp and co-venturers funded social investment projects and sign a Cooperation Agreement with the Azerbaijan State Agricultural University based in Ganja.
Speaking about the importance of the agreement Gary stressed that it set out a framework for the two organizations to cooperate closely in support of the university's plans to develop publishing capacity and resources, as well as upgrade its overall research and development infrastructure.
Gary also made a tour of the new campus of the Azerbaijan State Agricultural University where he launched a new educational program to be funded by bp and its co-venturers in support of the capacity-building of local universities in Ganja.
More information about this new educational project is in the press release issued by bp today.
---
Follow us on Twitter @AzerNewsAz