Azerbaijani Foreign Ministry commemorates victims of March 1918 massacres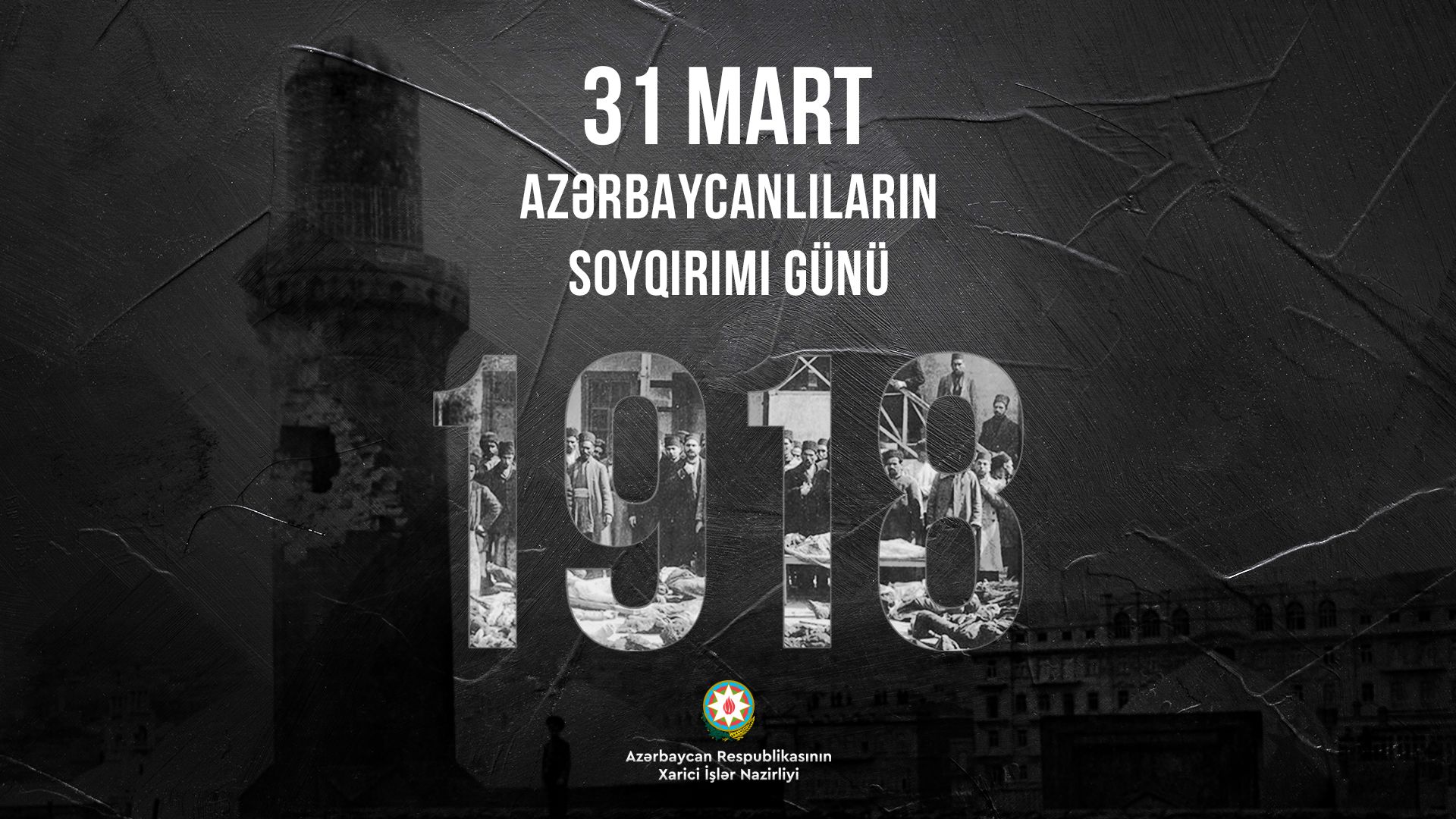 The Azerbaijani Foreign Ministry commemorated the memory of the victims of the Armenian genocidal policy, racial discrimination, and ethnic cleansing on the 105th anniversary of the March massacres, Azernews reports.
The ministry once again reiterated the importance of ending Armenia's impunity to prevent such crimes and their recurrence.
Recalling the bloody events that occurred in March-April 1918, the ministry noted that the Dashnak-Bolshevik armed groups operating under the mandate of the Baku Soviet carried out brutal massacres against tens of thousands of peaceful Azerbaijanis in Baku, as well as in Shamakhi, Guba, Irevan, Zangazur, Karabakh, Nakhchivan. and Kars districts.
"As a result of massacres, over 16,000 people were brutally murdered and 167 villages were destroyed in Guba alone," the statement reads.
The ministry also drew attention to the confessions of the Extraordinary Commissioner of the Caucasus, an ethnic Armenian Stephan Shaumyan, who stated that 6,000 armed soldiers of the Baku Soviet and 4,000 armed soldiers of the Dashnaksutyun Party took part in the massacres.
The ministry reminded that after the establishment of the Azerbaijan Democratic Republic (ADR), the government created the Extraordinary Investigation Commission for the investigation of grave crimes, committed by Armenians, which resulted in the opening of criminal cases against 194 persons accused of different crimes against peaceful population, and 24 people were arrested in Baku and about 100 in Shamakhi for their crimes.
However, the continuation of this first step towards a political and legal assessment of the policy of genocide against Azerbaijanis was interrupted due to the occupation of the Republic of Azerbaijan by the Soviet Army, the statement added.
Furthermore, it was highlighted that an adequate political assessment of the events was given after the restoration of Azerbaijan's independence, with the presidential decree "On the Genocide of Azerbaijanis" dated March 26, 1998, signed by the National Leader Heydar Aliyev, when according to this decree, March 31 was declared as the "Day of Genocide of Azerbaijanis".
Besides, the statement pointed out that the policy of ethnic cleansing continued during the 30-year-long policy of military aggression against Azerbaijan, as well as during the 44-Day Patriotic War.
---
Follow us on Twitter @AzerNewsAz