IRGC video viewed as wreaking havoc on relations with Azerbaijan [VIDEO]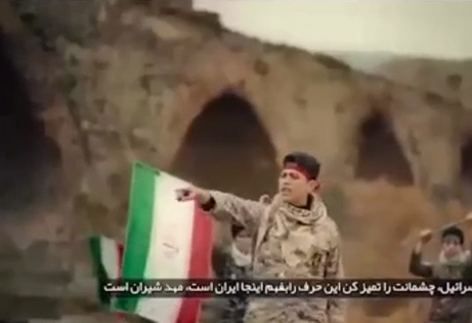 The Islamic Revolution Guard Corps (IRGC) continues using children in its dirty propaganda campaign, thus wreaking havoc on relations with Azerbaijan.
In this vein, a recent IRGC video clip, shot near the Khudafarin Bridge on the border with Azerbaijan, with children in military uniforms holding slogans and Iranian flags, is designed to threaten Azerbaijan. The children, on the video clip, are shown chanting in Azerbaijani "Don't go too far! Don't dig your grave with your hands! Iran announces: Let Azerbaijan know about it!"
Notably, just a few days prior to this, a similar video spread on Telegram Channels. The video depicted children clad in military uniforms crossing the Araz River along the Khudafarin bridge, heading towards Azerbaijani territories.
One of the flags carried by kids read "The Road to Jerusalem".
Similar provocations not only undermine the relations between the two countries, but also violate international law, and can be prosecuted for depicting children as soldiers.
In a recent comment on the relations with Iran, Azerbaijani Foreign Minister Jeyhun Bayramov noted certain tension in Azerbaijan-Iran relations, stressing that the situation should not be "overdramatized".
"Could Azerbaijan-Iran relations be better in the current situation? They could be. Azerbaijan has never wanted tension in relations. We have had many talks with my Iranian counterpart who has also expressed his support for the development of relations. Azerbaijan's position is that relations should develop within the framework of mutual respect and non-interference in each other's affairs," the minister said.
During the recent escalation on the Azerbaijani-Armenian state border on 12-14 September, Iran concentrated military forces and pieces of hardware along the Araz River that separates two parts of divided Azerbaijan.
A meeting between Azerbaijani President Ilham Aliyev and Iranian President Ebrahim Raisi took place on the margins of the Sixth Summit of the Conference on Interaction and Confidence-Building Measures in Asia (CICA) on 13 October. During the meeting, Aliyev told Raisi that Azerbaijan was continuing efforts to ensure peace and security in the Caspian Sea and the South Caucasus region.
Further, on October 17, the Iranian IRGC kicked off large-scale military drills of its ground forces in the north of the country in the area of the Araz River. Then ensued three-day military drills, codenamed IRGC Ground Forces Might. The location of the exercises, which includes Iran's East Azerbaijan and Ardabil provinces, is home to a large ethnic Azerbaijani population.
--
Sabina Mammadli is AzerNews' staff journalist, follow her on Twitter: @SabinaMmdl
Follow us on Twitter @AzerNewsAz