13 October 2020 16:00 (UTC+04:00)
1 781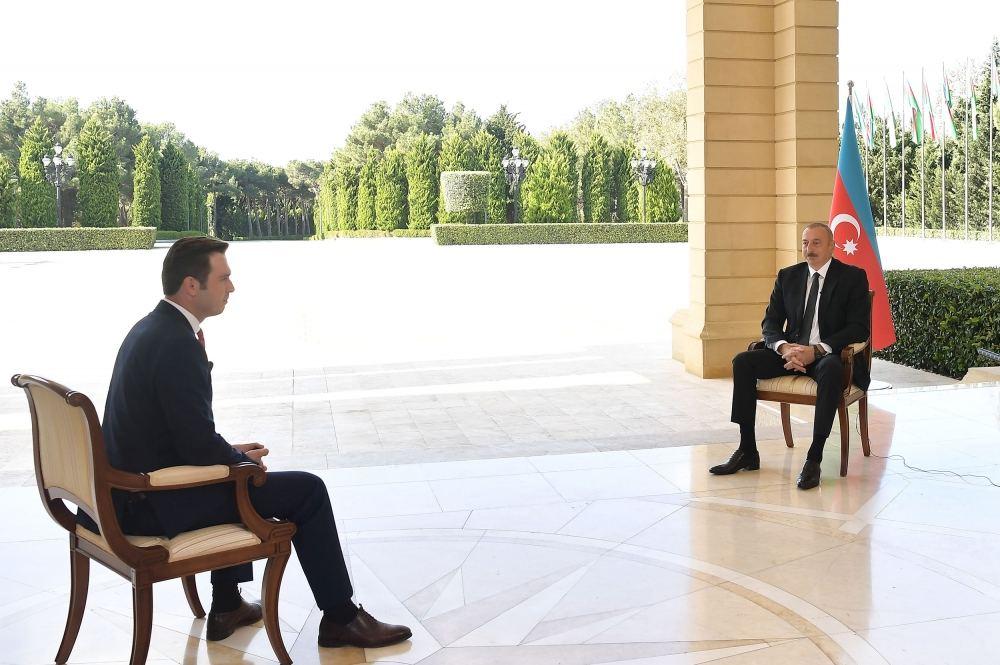 By Aisha Jabbarova
President Ilham Aliyev has said that Armenia's recent attack on civilians in Azerbaijan's Ganja city using "Tochka-U" missiles is another manifestation of Armenian fascism.
Aliyev made the remarks in an interview with Turkish Haber Global TV channel on October 12.
Ten civilians were killed and dozens others were injured when Armenian forces launched a missile attack on Ganja, Azerbaijan's second largest city that is located far from the conflict zone.
President Aliyev described the attack on Ganja as a crime against humanity, saying that this crime once again has shown that "the Armenian state is a state of terror, a fascist state".
Reminding that Armenia is being defeated in all directions of the front, it wants to avenge its pain and defeat on civilians. "This is their nature. The perpetrators of the Khojaly genocide have now carried out an attack on Ganja."
The president said that "the military-political leadership of Armenia is guilty of the attack on Ganja. According to the information we have, this decision was made personally by Pashinyan. We have accurate information that Pashinyan is currently experiencing very severe psychological upheavals. His moral and psychological state is very tense and he makes inappropriate decisions."
"Armenians of the world, Armenia's supporters, their benefactors and Islamophobic circles will no longer be able to conceal this crime because everything is already obvious. There were statements for the press at the scene yesterday and representatives of foreign embassies who are visiting the site today see everything with their own eyes. Once again, they see who is causing this conflict, who pursues an aggressive policy, who is committing crimes against the civilian population."
Aliyev said that despite the barbaric shelling of civilians in Ganja, hours after the humanitarian truce entered force, Azerbaijan is showing patience.
"After such a barbaric shelling of Ganja, every Azerbaijani is outraged and an adequate response is required. But we are giving an answer on the battlefield. We avenged yesterday's victims on the battlefield. Our attitude is this: we have never fought and are not fighting civilians. This is one of the qualities that distinguish Azerbaijan from Armenia," the president said.
Furthermore, Alyev spoke about the Azerbaijani Army's success in the recent military operations.
"Either a city or a village is liberated from occupation almost every day, or the territory of these villages is taken under control. Today I can say that several settlements are now fully under our control. We simply haven't entered these settlements yet because there is no need for that from a military point of view. But we will make further announcements after some time."
Aliyev said that Armenian forces have also sought to capture Hadrut after the truce entered force. The city was liberated by Azerbaijani Army on October 9.
"They have made several attempts to re-occupy Hadrut… I was informed that last night a large group of commandos who arrived from Armenia tried to re-occupy Hadrut although from a strategic point of view, this is not particularly important for Armenia – just to take a selfie there and report to its population. The Azerbaijani Army neutralized this unit, and the losses Armenia suffered there that night are exclusively victims of Pashinyan's irresponsible and predatory policies."
Speaking about the humanitarian cease-fire reached between Baku and Yerevan with Russia's mediation on October 10, Aliyev said that the agreements reached in Moscow fully meet our interests, because, first of all, it provides for the exchange of bodies of those killed in the action and prisoners on a humanitarian basis.
"We wanted this from day one. But Armenia did not go for it. There are also other very important political moments. One of them is the restoration of negotiations, discussions, continuation of substantive negotiations based on fundamental principles. And the fundamental principles meet our interests, because they provide for a withdrawal of Armenian armed forces from the occupied lands. It is stated in them that the Armenian armed forces will withdraw from five districts at the first stage and from two more at the second stage. After that, of course, all internally displaced persons will return to the places where they lived before. This means that our internally displaced persons will return to both Shusha and Khankandi, after which a political solution to this issue can be provided."
Aliyev also touched upon the work of the OSCE Minsk Group co-chaired by Russia, the U.S. and France that has been mediating the conflict between Azerbaijan and Armenia, saying that we have no information about the basis on which it was established.
"For nearly 30 years, we have not received a single centimeter of our lands back through negotiations… Notice the activities of Armenian diasporas in the countries that are now co-chairs of the Minsk Group now. In all three countries, Armenian diaspora organizations have great political influence. Thanks to these political opportunities, they influence the officials of these countries. So how fair is it?"
The president also spoke about around one million Azerbaijani IDPs who have been expelled from their in the Nagorno-Karabakh and the adjacent seven districts.
Our internally displaced persons know that their problem is the number one problem for me, for the President… This year, we will provide 7,000 families with new apartments. About 35,000 people receive free housing from the state every year. The state pays them a monthly allowance. Therefore, of course, they are satisfied with the care of the state. In our meetings, they always express their gratitude and say: everything is fine here, we live in new houses, we have not seen such conditions, but please take us back there, we want to go there. And they will go," the president stressed.
---
Follow us on Twitter @AzerNewsAz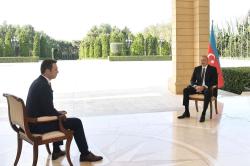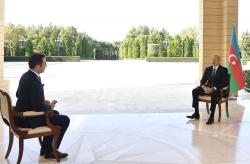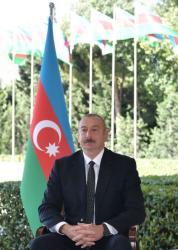 Related News