Aliyev lauds effective activity of ASAN Service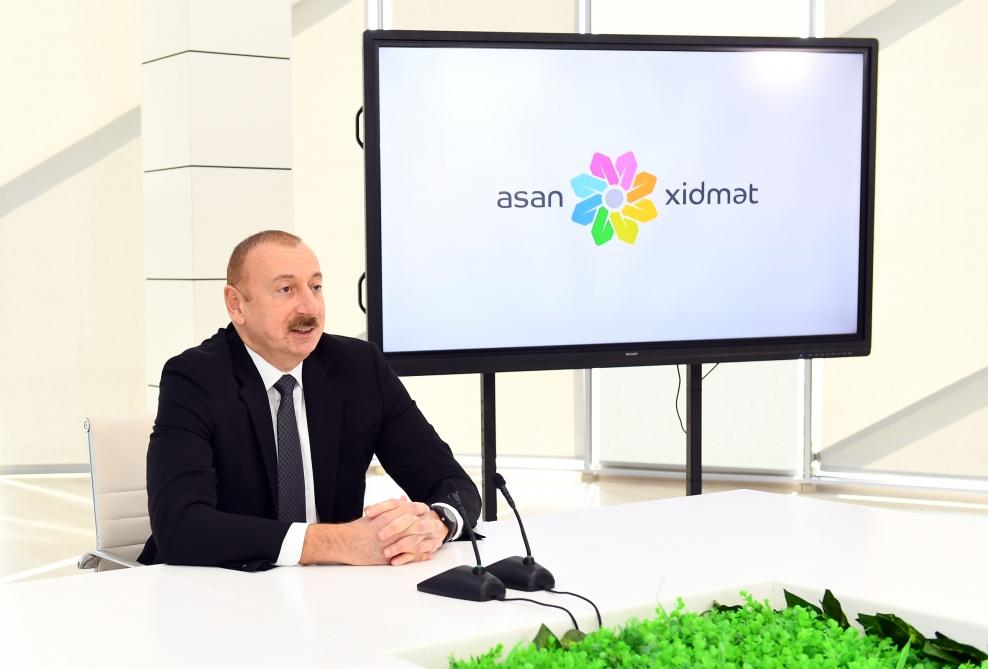 By Ofeliya Afandiyeva
President Ilham Aliyev has said that ASAN Service is a very successful project and the foundation for this achievement lies both in the well-planned policy and effective activities of its organizers.
Aliyev made the remarks while inaugurating of "ASAN Həyat" complex in Tovuz district on March 4 as part of his visit to the western part of the country.
"ASAN Service is a very productive project and both the well-thought-out policy and the systematic operation of its organizers are the basis for this success. We have been able to revolutionize public services in a short period of time. The public services sector has always been a problematic area. Even during the Soviet period, there were many complaints about this sphere. In the years of independence, public service was characterized by bureaucracy, corruption and unfortunately, many citizens were accustomed to it," the president said.
"The launch of 'ASAN Service' was both promising and to some extent astounding, as it was really a new phenomenon. However, today, when the 18th Center is commissioning, I think everyone sees that this is not a separate project. It is an approach, it is a way of thinking, it is our policy. The transparency and culture in ASAN should be applied everywhere. In other words, ASAN service has been an example for many areas. It is no coincidence that a similar project is now being implemented in the field of social security - DOST centers are starting to operate," Aliyev said while underlining the core essence and successful implementation of the project.
The president continued his speech with the future plans in the development of ASAN centers: "We have quite comprehensive program to establish ASAN service centers. As I said, it is the 18th center, but in the near future, the number of centers will reach 27. Centers will be set up in Aghjabadi, Balaken, Nakhchivan, Sumgait, Ganja, Lankaran and Salyan, and two more will be built in Baku as well. Of course, this process will continue. Thus, people will be provided with better service quality. This center covers several districts. About 700,000 people live in these areas. It is the second center in the western zone and the first one was opened in Ganja, as I mentioned. The third center will also be launched in Ganja as there is a need for it. One of the advantages of ASAN service is that there are no queues, but the demand is so great in Baku that we have decided to open two new centers. There is also a need for a second center in Ganja and Sumgait".
The head of the state also reminded that ASAN center has been accepted a successful model in public service system by foreign countries: "I should also note that our experience is being studied in other countries. "ASAN service" is already operating in other countries under the name "ASAN". It was our condition because it was our brand, our intellectual product. Of course, we are ready to share our experience with any country. We are glad that other countries also use our experience."
Aliyev added that international organizations highly appreciate the activity of ASAN: "The UN distinguished and awarded ASAN. This, of course, is the result of the work done."
He stressed employment opportunities created by ASAN and added development of Tovuz in terms of places for entertainment: "More than 200 jobs have been created in the ASAN service center and 50 for volunteers. At the same time, 50 jobs were created at the first stage of the ABAD factory. ASAN is expanding its activities as it broadens its functions. These centers already operate as public centers in the regions - cafes, discos, outdoor scenes, cinemas. For example, Tovuz has never had a cinema in modern times. However, now there are two cinemas. There are all opportunities for young people to spend their leisure time efficiently."
The construction of the ASAN complex began in April 2018. The complex will serve nearly 737,000 residents living in Tovuz, Gazakh, Agstafa, Shamkir, Gadabay and Samukh districts and citizens without any territorial restrictions across the country. More than 320 services will be provided by the ASAN service center by various government agencies, as well as private companies and businesses. The complex has 205 employees and 50 volunteers.
---
Follow us on Twitter @AzerNewsAz