Burning Mountain may turn into Flame Theater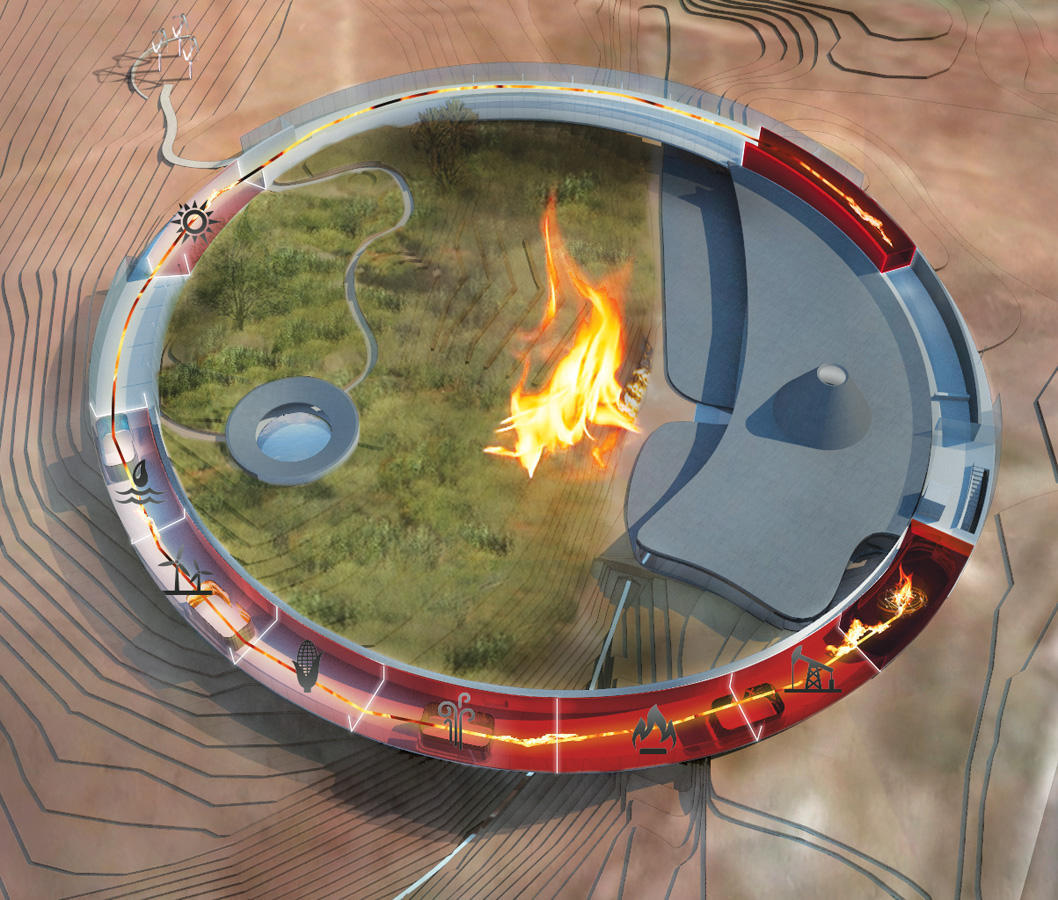 By Aygul Salmanova
One of the most famous and popular tourist places of the "eternal flame" in Azerbaijan, the mountain of Yanar Dag, can be transformed to a Flame Theater if the proposal of the Italian architects to be put into practice.
Italian architects propose to create a Flame Theater and Energy Museum in the territory of the Historical, Cultural and Natural State Reserve "Yanar Dag" (Burning Mountain), mystical hillside with a continuously burning natural fire, the press service of United Cultures in Baku told Trend.
The authors of the project Laura Peretti and Sandro Teti propose to implement this project using high technologies and modern developments together with Azerbaijani specialists.
"The authors of the project note that the implementation of this idea will become another bridge of friendship between Azerbaijan and Italy and will further develop the country's tourism infrastructure. Great Italian traveler Marco Polo also wrote about this ancient unique place of Azerbaijan. The implementation of this project could also become a symbol of economic cooperation between the countries within the framework of the grandiose project "Southern Gas Corridor", which provides for the delivery of Azerbaijani gas to Italy," the report says.
Yanar Dag is the real representation of the well-known epithet of Azerbaijan - the Land of Fire. This place magically attracts visitors especially in the dark time.
Yanar Dag, situated on the Absheron Peninsula, 25 kilometers northeast of Baku, the capital city, is a 116-meter hill located on top of a pocket of natural gas constantly regurgitating into flames. Having flames jetting out at least three meters high, Yanar Dag has no seepage of mud or liquid unlike the other mud volcanoes of Azerbaijan, so the fire always burns.
Unlike mud volcanoes, which are widespread around Azerbaijan, there is no seepage of mud or liquid at Yanar Dag. It burns simply and gorgeously.
It happens that people around the world cannot stop looking at the flame from the ancient times. The dancing fire fascinates and catches people for centuries, and until know, in the era of high technology, flame attracts people as much as thousands years ago.
Yanar Dag, one of the main attractions of Azerbaijan, never fail to amaze tourists and locals alike. In 2017, a great number of tourists visited the reserve. During the year 54,717 out of 63,574 people were foreign tourists. The place was visited mainly by tourists coming from Russia, the United Arab Emirates, Iraq and other countries.
--
Follow us on Twitter @AzerNewsAz