12 January 2018 13:51 (UTC+04:00)
3 756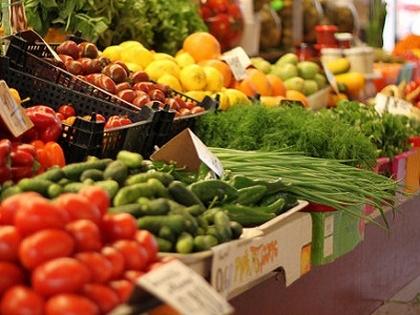 By Aygul Salmanova
During the first 11 months of 2017, export of fruit and vegetable products increased by 34.6 percent compared to the corresponding period of 2016 and amounted to $452.7 million, Deputy Minister of Economy Sahil Babayev told Azernews.
He noted that fruits and vegetables were mainly exported to Russia, Italy, Germany, Ukraine, Kazakhstan, Poland, Georgia and other countries.
"The main fruit and vegetable products exported from Azerbaijan are pure nuts, tomatoes, palm, apples, cherries, potatoes, cucumber and gherkins, onions, peaches, pomegranates, fresh grapes and so on. Regular work is being carried out to increase the export of crops," he said.
Babayev also noted that the Association of Fruit and Vegetable Producers and Exporters started its activity with the support of the Ministry of Economy and the initiative of producers and exporters of fruits and vegetables operating in the country. He added that some other associations of several different fruit and vegetable producers and exporters (palm, pomegranate, hazelnut, etc.) were established.
The deputy minister also noted that such institutions had contributed to the growth of organizational level of fruit and vegetable exporters, which allowed them to reduce their costs, as well as facilitate access to financial resources and export markets, which eventually led to an increase in fruit and vegetable exports.
Babayev also said that promotions and other support events were being organized in the public places of the foreign countries and in the international media. He added that in order to facilitate the export of fruits and vegetables to the foreign markets and ensure that the importing country is in favorable conditions, series actions had been carried out.
He also noted that negotiations were underway on the preferential trade agreement, which allowed exporting a number of agricultural (mostly fruits and vegetables) products to Turkey on favorable terms. After signing this agreement, some fruit and vegetable products would be exported to Turkey on favorable terms, he said.
"A wide range of fruits and vegetables are grown depending on climatic conditions in all regions of Azerbaijan. Some of these grown products are consumed in the domestic market," he said. "The rest of these products grown in all regions are exported to different countries. Vegetables are mainly grown in Shamkir, Khachmaz, Lankaran, Bilasuvar, Masalli, Absheron, and fruits in Guba, Khachmaz, Goychay, Astara, Zagatala and other administrative regions."
The volume of the exported fruits and vegetables in 2016 amounted to $372.8 million, and in the first half of 2017 - $452.7 million, according to the State Statistics Committee of Azerbaijan.
--
Follow us on Twitter @AzerNewsAz
Related News