4 October 2017 17:10 (UTC+04:00)
1 989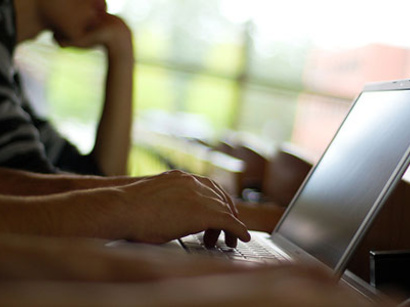 By Rashid Shirinov
Today, more and more people get access to the Internet, and the number of children using the worldwide web also increases. In this context, it is highly important to control their presence in the Internet in order to avoid any undesirable impact to the person's psychology and behavior.
"Approximately five Internet providers provide filtered Internet, or so-called "Halal Internet," in Azerbaijan," President of Azerbaijan Internet Forum Osman Gunduz told Sputnik Azerbaijan on October 4 commenting on the issue.
He said that some Internet providers in Azerbaijan block access to unwanted websites. "If users enter the Internet via data cards or purchased packages of these providers, then they will use safe Internet," Gunduz noted.
However, the expert said that in Azerbaijan there are no provisions limiting the use of the Internet by children, and filtered Internet is only used in facilities of the Azerbaijan Ministry of Education. In this context, he recalled that Azerbaijan adopted amendments to the Law "On Telecommunications" in 2016, which envisage that consumers can require operators to provide them with safe Internet.
"It is yet difficult to say anything about the law requirements enforcement mechanism. However, if they wish, users, and in our case parents, may demand from operators to meet the terms of the contract smoothly," said Gunduz.
The expert also touched upon the initiative of Russian MPs to prohibit registration in social networks for children under 14 or to do it under strict supervision of their parents. The bill also specified that the registration should be done with passport. However, Gunduz does not believe that it will be possible to apply such a practice in Azerbaijan, as social networks are global in nature.
"I believe that there is a big threat for children in the Internet and particularly in social networks. Such problems are noted in the national legislation," the expert said. "We solved them in education, but there are control issues in Internet clubs and other places of access to the worldwide web – public places, that can be solved through public intervention."
In Azerbaijan, with over 9.8 million people, about 77 percent of the population has access to the Internet, and teenagers constitute a significant part of these people. Therefore, there is a need to develop the safe Internet concept among the Azerbaijani Internet users.
The filtered Internet services protect children from the influence of inappropriate sites by limiting their access to certain digital content. These include web pages containing adult content, gambling, profanity, information promoting violence, etc. Users are granted access only to trusted Internet sites, which have been filtered and comprise only useful information.
---
Rashid Shirinov is AzerNews' staff journalist, follow him on Twitter: @RashidShirinov
Follow us on Twitter @AzerNewsAz
Related News