6 September 2017 16:26 (UTC+04:00)
2 133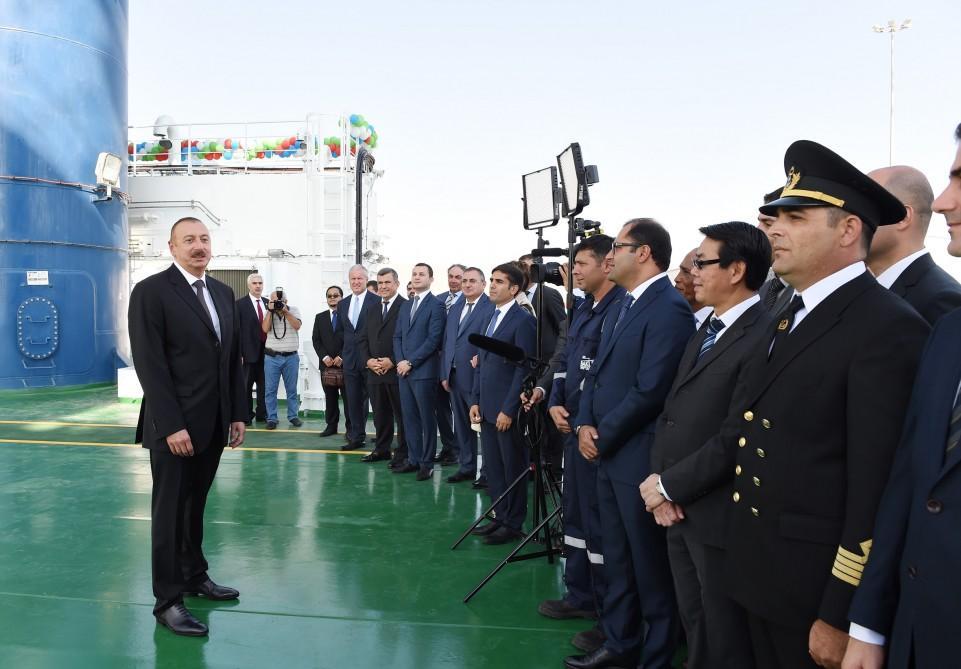 By Amina Nazarli
Khankendi – a new flagship vessel specifically designed and built to install the biggest subsea production system in the Caspian Sea as part of the Shah Deniz Stage 2 project, has been launched in Baku.
President Ilham Aliyev, who attended the official launch ceremony on September 6, stressed that construction of the Khankendi vessel demonstrates Azerbaijan's power.
President Aliyev further pointed out that the commissioning of the Khankendi vessel is a historic event, emphasizing satisfaction with the fact that this big vessel was built in Azerbaijan, in Baku, and was named Khankendi, what bears great significance.
Khankendi city is located in Azerbaijan's Nagorno-Karabakh region occupied by Armenian invaders for more than two decades.
"Khankendi is our ancient city, and the name of Khankendi is very dear to us. It is no coincidence that the vessel, meeting unique world standards, was given exactly this name. Construction of this vessel demonstrates the power of our country and shows that any big construction work can be carried out in Azerbaijan today," President Aliyev said.
Built by Baku Shipyard, a joint venture of SOCAR, the Azerbaijan Investment Company (AIC) and Keppel O&M, under an order by BP Azerbaijan, the vessel is worth about $400 million.
The vessel is 155 meters in length and 32 meters in width with 2,000 square metres of deck space. It has a total weight of 17,600 tonnes, a carrying capacity of 5,000 metric tonnes at 6.5 metres draft and two engine rooms with 6 x 4.4MW and 2 x 3.2MW generators.
The vessel has a maximum capacity of 175 people on board, including the marine crew and discipline specialists. The personnel include both Azerbaijani nationals and expatriates with plans for extensive training, leading to the full nationalisation of the staff.
Praising the decision on establishment of the shipyard, President Aliyev said that the construction of this vessel also means that the decision taken at one time to build a shipyard was correct. "At that time, when taking this decision, we pursued this goal exactly – to ensure that Azerbaijan can build any type of vessel."
The construction of this vessel also shows that there is no such a vessel that could not be built at the shipyard, President Aliyev said, adding that currently, four new vessels – two ferries and two tankers – are being built.
"Services of this vessel in development of the Shah Deniz gas field will be indispensable. According to the information given to me today, there are only 10 vessels of this type in the world. One of them is in Azerbaijan, built in Azerbaijan, and the crew of this vessel mostly consists of Azerbaijani specialists. That is, trainings and preparatory work were conducted when building this vessel, and today, both the captain of the vessel and most of his crew are local staff."
Stressing that the development of the Shah Deniz field is a strategic project for Azerbaijan, the President added that preparatory work on the project has been completed by 96 percent.
"It can be said that this project is already implemented. It is impossible to use Shah Deniz at great efficiency without this [Khankendi] vessel. We carry out all this work consistently. Investments were made and correct work with foreign partners was organized. Platforms, floating units, such big vessels, and the Sangachal terminal, as well as oil and gas pipelines are being built in Azerbaijan."
The head of state further said that major investments were made in a comprehensive, well-thought-out and planned way in the oil and gas sector of Azerbaijan, the results make its presence felt.
"I want to note the joint activities of BP and SOCAR. As a result of this cooperation, historic achievements in Azerbaijan's oil and gas sector are already a reality," he said.
The president also commended the activities of the Azerbaijan Caspian Shipping Company, which activities meet international standards. The company already operates with profit and pays big taxes to the budget.
Touching upon the Shah Deniz field, Ilham Aliyev noted that its gas reserves amount to at least 1.2 trillion cubic meters.
"This is one of the largest gas fields in the world. Overall, our gas reserves amount to 2.6 trillion cubic meters. That means Azerbaijan will provide itself and many countries with natural gas for at least 100 years."
Gas volumes in the Shah Deniz reservoirs are so vast that they will not only meet the needs of Azerbaijan and its regional neighbors, but provide significant supplies to Europe. Of the incremental 16bcma of gas that the full field will produce, 10bcma will be transported to markets west of Turkey. With a five-year extension to the original PSA signed last year, Shah Deniz will produce natural gas until at least 2036.
President Aliyev also informed about the plans on signing a new contract on development of the Azeri-Chirag-Gunashli (ACG) block of oil and gas fields in a few days.
"We will prolong our activity at this field until 2050. This once again demonstrates that Azerbaijan has very big oil reserves," noted the President.
The ACG is a super-giant field located about 100 km east of Baku. It is the biggest producing oil field in the Caspian Sea and covers an area of more than 432 square kilometers. The field lies in water depths of between 120 and 170 metres. The depth of the reservoir is 2,000-3,500 metres.
The head of state added that production at the ACG started in 1997 and after 20 years a new contract is being signed, under which, oil will be produced in a sufficient volume from Azeri-Chirag-Gunashli until 2050.
This is a response to negative and prejudiced opinions, the president noted, adding this also demonstrates that Azerbaijan has a very big energy potential.
--
Follow us on Twitter @AzerNewsAz
Related News