16 March 2017 17:25 (UTC+04:00)
3 300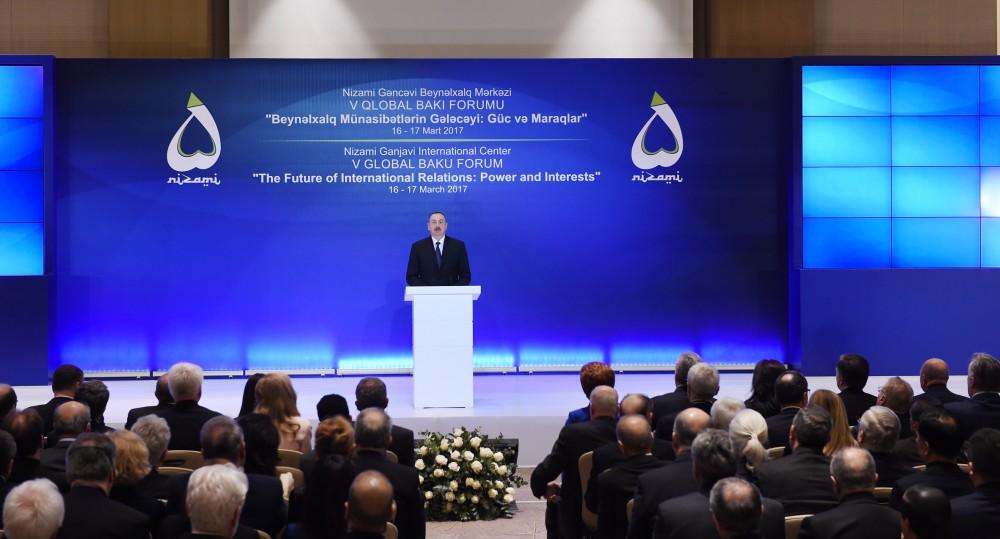 The 5th Global Baku Forum has kicked off in Baku under the slogan "Future of foreign relations: Power and interests", Azertac reported.
President of Azerbaijan Ilham Aliyev and first lady Mehriban Aliyeva are attending the opening ceremony of the forum.
The head of state made a speech at the opening ceremony.
Every international forum is important, and future impact on the decision-making in the world depends on the discussed topics, Azerbaijani President Ilham Aliyev said.

He made the remarks at the opening ceremony of the 5th Global Baku Forum titled "The Future of International Relations: Power and Interests", which kicked off in Baku March 16.
The president said that holding of this forum has already become traditional, and this is not the first time Azerbaijan holds it. He welcomed all the participants, who represent more than fifty countries at the forum, and more than two hundred sixty guests.
"Azerbaijan, as an independent country, is relatively new. Last year we celebrated the 25th Anniversary of restoration of our independence. Our activity, projects that we initiate in our country, have positive impact on the whole region is one of the ways to present our country to the world," the president said.
Azerbaijani president went on to say that since the last Baku Global Forum meeting, the world didn't become safer.
"We still have protracted conflicts, still have confrontations, wars in our region. This of course is a very dangerous tendency. Azerbaijan in its region is playing an important role as a stabilizing factor. Our initiatives aim at regional cooperation, predictability and strengthening of security measures in the region," said Ilham Aliyev.

The president went on to add that Azerbaijan is not an island, and close neighborhood is of great concern to the country. He said there are still challenges, wars, conflicts, the migrant crisis, and it is a big humanitarian catastrophe.

"At the same time, the migrant crisis also leads to, I would say, less understanding between different parts of our world. It creates certain discomfort for the people of the countries where the migrants are heading. But, this is only the consequence of what happened, because the real reason of this crisis is external political and military interference into internal affairs of these countries," he said.
The president went on to say that the migrant crisis wasn't happening five or ten years ago, it happened recently.

"So this is the consequence of, I'd say, not a very thoughtful policy towards the countries of the Middle East. And this, in turn, leads to radicalization of societies of the countries where the migrants are heading," said Ilham Aliyev.

He went on to say that unfortunately, the most attractive slogans in election campaigns are slogans very close to nationalism and anti-migrant sentiment.

"We witnessed it during last months, years. And this is the tendency. I think one of the most important issues on global agenda is to reverse this tendency backwards. More to cooperation, mutual understanding, mutual respect, rather than alienation, political confrontation and lack of dialogue of civilizations," Azerbaijan's president said.

The president said Azerbaijan is a country, which geography, to certain degree, predetermines its role in the region.

"We are investing in the dialogue of civilizations and cultures. Azerbaijan itself suffers from war, occupation, humanitarian catastrophe, as a result of Armenian aggression and occupation of its territory," Ilham Aliyev said.

"This occupation lasts for more than 20 years, and twenty percent of internationally recognized part of Azerbaijan, Nagorno-Karabakh and seven districts surrounding it, are under Armenian occupation. All the infrastructure [there has been] destroyed, all our historical, religious monuments destroyed. OSCE fact-finding mission sent delegations and groups of observers to the occupied territories, and their report clearly shows that all the buildings and historical heritage of Azerbaijan have been destroyed," he said.

"This conflict is the result of Armenian aggression against its neighbor. It is the result of separatism and war against Azerbaijan. A million of Azerbaijanis suffered from that - they became refugees and internally displaced persons. This figure is one of the highest per capita in the world. Today's population of Azerbaijan is close to ten million. When the conflict started, it was eight million. So, one million of eight million in the beginning of 1990s became homeless," President Aliyev said.
The president went on to say that at the time, Azerbaijan, being a very poor country, had to face series of political, economic and social issues.

"Economy was in chaos. There were no clear means for economic developments, and plus a million people came from the occupied territories, and they had to be taken cared of. Since that time, of course, Azerbaijan has developed. We're capable to provide decent conditions for our compatriots, but the conflict is not resolved," said Ilham Aliyev.

He went on to say that all the important international organizations adopted resolutions and decisions which demand withdrawal of occupational Armenian forces from Azerbaijani lands.

"The UN Security Council, which is a top body on international arena, adopted 4 resolutions, demanding, I quote, immediate and unconditional withdrawal of Armenian troops from the occupied territories. But these resolutions remain on paper, Armenia ignores them, and already 25 years have passed," the president said.

"This shows also that there's a lack of mechanism of implementation of decisions of international organizations, in particular UN Security Council. On the other hand, it shows again lack of consistence, because we all know that in some cases resolutions of the Security Council are implemented within days, if not hours, but in our case, it is 25 years and still there's no progress," Ilham Aliyev said.

"Our refugees and internally displaced persons cannot go back to their native land. And this we consider the policy of double standards. In general, I think, the recent developments in the world show that the policy of double standards, unfortunately, has become a kind of standard in international relations," he said.

The president added that the norms and principles of international law are being interpreted in different countries with respect to the preferences to the current political interests.

"I think this is an important issue, when we're talking about the reforms of the United Nations. And in general, the implementation of decisions of international organizations. If the adopted decisions are not implemented, not only the countries will suffer, but also the world will be in danger, because it means that any country can use its force to change situation on land, in order to occupy territories, cause sufferings of millions of people and not be punished," Ilham Aliyev said.

The president of Azerbaijan went on to add that the country has raised this issue many times in front of international organizations - about aggression, occupation and war crimes committed by Armenia against peaceful Azerbaijani citizens.

"Armenia must be sanctioned, then it will be fair, then it will be a single standard," Ilham Aliyev said.
"The conflict's resolution must be based on international law, and territorial integrity of Azerbaijan must be restored. People have the right to return to their homeland," said the president.

He went on to add that the unresolved Armenian-Azerbaijani conflict is dangerous to stability and peace.

"We want to resolve this conflict peacefully, but we want to resolve it. Armenia wants to keep the status-quo unchanged and ignores strong statements of the mediators, which are permanent members of the Security Council," said Ilham Aliyev.

He added that the US, Russia, on many occasions have said that the status quo is not acceptable and that it has to change, and that means the beginning of de-occupation of territory of Azerbaijan.

"Despite this heavy burden and the humanitarian crisis, Azerbaijan's development was rapid, it is sustainable, we have big achievements in economic transformation of our country, and I think that 25 years of freedom and independence, demonstrated that the people of Azerbaijan are not only capable to live as independent nation, but also capable to achieve success in many areas," the president said.

"If we look at economic performance of Azerbaijan, especially in the recent years, we will see that our achievements in economic area really demonstrate that we have strong political will, consolidated society. When you have unity between the government and people, you can achieve a lot, even with a conflict, and occupation," Ilham Aliyev said.
The president went on to say that due to the broad regional development program, Azerbaijan managed to reduce poverty by ten times within the last 14 years, and it currently stands at less than six percent, while unemployment stands at around five percent.

"Of course Azerbaijan's economy suffered because of the collapse of the oil prices, but at the same time this situation forced us to be more active on economic reforms, and within a very short period, we managed to overcome the difficulties," said Ilham Aliyev.

"You can imagine if your revenue drops 3-4 times, for any country, any family, a serious challenge. Countries and people get used to certain lifestyle, certain development and then all of a sudden, your revenues collapse. This was a really serious challenge for our government, but I think that we managed to overcome it," the president said.

"Though there were difficulties and they continue, but in general, the period of adaptation to low oil prices, I think, has already happened, and 2017 is the year of economic growth. Even last year, when we, for the first time in 14 years, had an economic recession, if you look at the parameters not linked to oil and gas, we see that the development of our non-oil industry grew last year by 5 percent, agriculture by more than 2 percent," Ilham Aliyev said.

He went on to add that in the first two months of this year, the same performance was shown by the non-oil industry, the country's GDP started to grow, and Azerbaijan managed to significantly increase its non-oil export within two months of 2017.

"Therefore, the diversification of economy of this policy was conducted for many years, and it is already bringing results. Now the main objective for the coming years is the diversification of our export, we need new markets, and of course to enter one, we need to have very good political relations with countries whose market is attractive for us," said the president.

The president further said that as far as foreign policy is concerned, Azerbaijan has a strong position in the region and world.

"The international community respects us because we pursue independent policy and also we always keep our word. We are a reliable partner, and we manage to build very positive, at the same time pragmatic, relations with our neighbors, which are based on history, friendship, mutual interest, mutual respect, and non-interference in internal affairs of each other," Ilham Aliyev said.

The president noted that regional cooperation and Azerbaijan's relations with all the neighbors is of extreme importance, as it is for any country.

"If a country has problems with its neighbors, both suffer. Therefore, apart from Armenian aggression, with all our neighbors we have good relations. We implement a lot of projects, energy, transportation, trade, cultural projects which bring our peoples closer," President Aliyev said.

He went on to say that Azerbaijan has established very good relations with countries, member of the EU. According to Ilham Aliyev, with nine of them, Azerbaijan signed or adopted strategic partnership document.

"I think this is also a big achievement, because it shows that many European countries treat Azerbaijan as a strategic partner. And that's not only because of energy resources, our cooperation is much broader," he said.
Co-organized by the State Committee for Work with Diaspora and the Nizami Ganjavi International Center, the forum is joined by more than 200 presidents, former heads of state and government from 50 countries, current and former officials, heads and senior representatives of international organizations, renowned politicians and experts.
The forum will discuss a range of issues including the future of transatlantic relations, the fight against terrorism, the role of China in international relations.
---
Follow us on Twitter @AzerNewsAz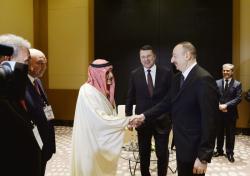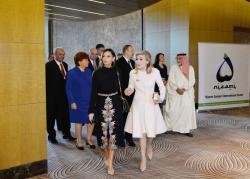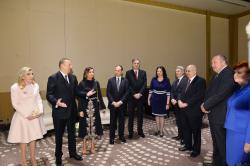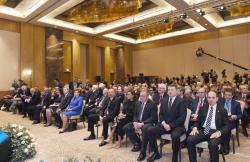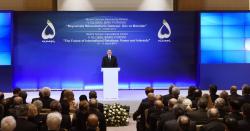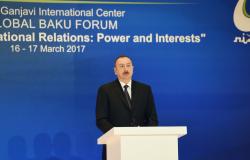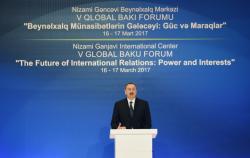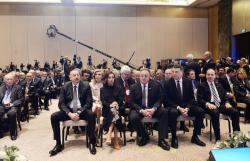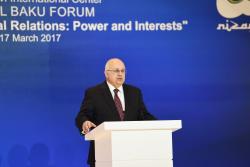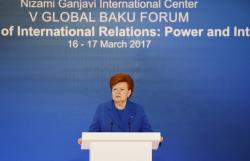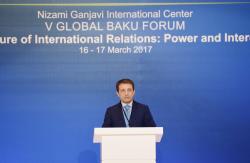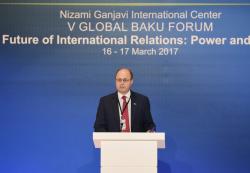 Related News