Vietnamese President hails cooperation with Azerbaijan [PHOTO]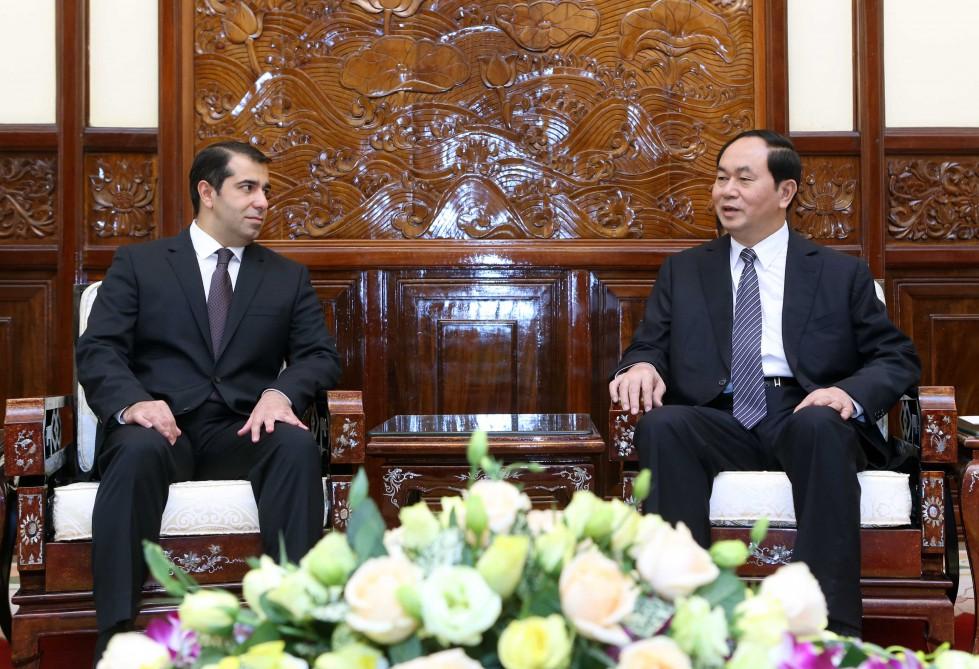 Newly elected Vietnamese President Trần Đại Quang has hailed his country`s cooperation with Azerbaijan as he met with ambassador Anar Imanov. "Vietnam and Azerbaijan enjoy excellent cooperation," he said. The Vietnamese President pointed out the "important" role of mutual visits of heads of state in developing relations between the two countries. He expressed confidence that "historic friendship and cooperation" between Vietnam and Azerbaijan will continue to strengthen.
President Đại Quang hailed the bilateral trade, saying it grows on a yearly basis. He said that apart from other sectors, it is important to ensure rapid development of economic and trade relations.
Ambassador Imanov congratulated Đại Quang on his election as President of Vietnam. He said Vietnam-Azerbaijan bilateral ties have deep roots. The ambassador said visits of Vietnam`s first President Hồ Chí Minh to Azerbaijan in 1959 and of Azerbaijani national leader Heydar Aliyev to Vietnam as the First Deputy Chairp of the USSR Cabinet of Ministers in 1983 laid the foundation for friendly relations between the two nations.
Imanov hailed the contributions of friendship groups at Azerbaijani and Vietnamese parliaments, joint intergovernmental commission on economic, trade, scientific and technical cooperation, Vietnam-Azerbaijan Friendship Society, Centre for Azerbaijani History and Culture Studies in Hanoi to the development of bilateral cooperation in various spheres.
He said he believes Vietnam will soon open its Embassy in Azerbaijan, expressing hope that this will give impetus to cooperation between the two countries. He also asked the Vietnamese leader to consider the possibility of cancelling visa regime for Azerbaijani citizens.
President Đại Quang asked the ambassador to convey his greetings and best wishes to President Ilham Aliyev, and invited the Azerbaijani leader to visit Vietnam.
---
Follow us on Twitter @AzerNewsAz