19 October 2016 16:02 (UTC+04:00)
3 862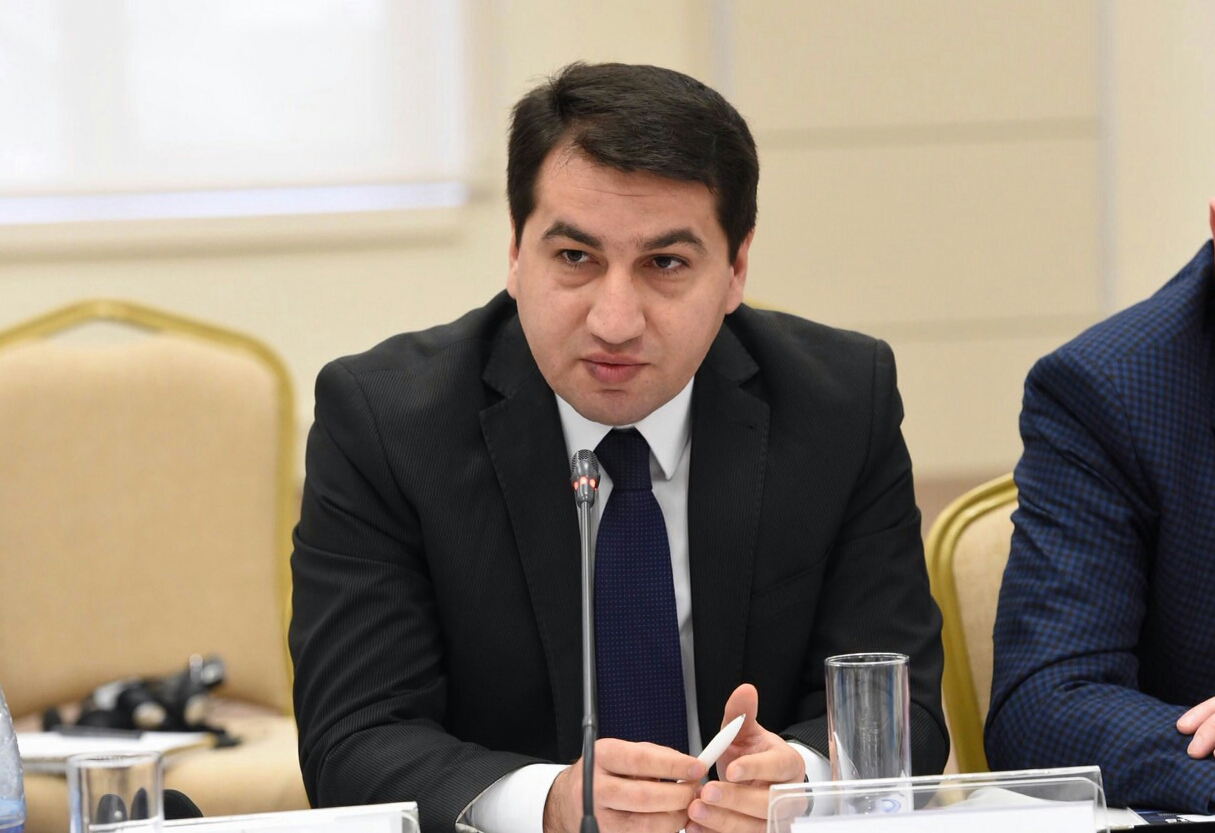 By Rashid Shirinov
Baku called on Yerevan not to indulge in dreams and deceive their people through tricking statements on the Nagorno-Karabakh region of Azerbaijan.
"Instead of succumbing to dreams and deceiving their own people, Yerevan must ensure withdrawal of its troops from all occupied Azerbaijani territories," said Hikmet Hajiyev, the spokesman of Azerbaijan's Foreign Ministry.
He was commenting on Armenia's Foreign Ministry Tigran Balayan's recent statement on "the definition of status of Nagorno Karabakh". Balayan said that reportedly defining the "status through the will of the people of Nagorno-Karabakh is enshrined in the statements of the co-chairs of the OSCE Minsk group."
Hajiyev told Trend on October 18 that Balayan remains committed to the traditions of the structure he represents, he tricks the Armenian public and consoles himself. "The status of the Nagorno-Karabakh region of Azerbaijan, as noted in the documents of the OSCE Minsk group, can only be defined by consensus during the negotiation process, and by taking into account the will of the entire population of Nagorno-Karabakh, including the Azerbaijani community," Hajiyev said. "In his interview to Sputnik international news agency, President of Azerbaijan Ilham Aliyev has clarified the question of the autonomous status of Nagorno-Karabakh," he added.
Capturing Azerbaijani Nagorno-Karabakh region and seven adjacent regions in early 1990s, Armenian armed forces killed more than 20,000 Azerbaijanis. As a result of the war, nearly 1 million Azerbaijanis were displaced from their native lands in Nagorno-Karabakh.
Hajiyev recalled the firm position of President Aliyev on the Nagorno-Karabakh conflict. Mentioning the statement of the Azerbaijani president at a recent meeting of the Cabinet of Ministers, Hajiyev said that unlike the criminal regime of Armenian military junta, the dialogue of Azerbaijani leadership with its people and its appeal to the international community are open and clear.
By contravening numerous resolutions and agreements adopted in regard to the Nagorno-Karabakh problem, Armenia continues to remain illegally in the Azerbaijani territories. These particularly include UN Charter, Helsinki Final Act, and especially four UN Security Council resolutions calling for immediate and unconditional withdrawal of Armenian troops from Azerbaijan.
Armenia should think about the opportunities that will create the solution to the conflict, to overcome the deep political, economic, financial and demographic crisis that are currently observed in Armenia.
"Official Yerevan should finally understand that the international community will not cater to its whims and desires," spokesman concluded.
Azerbaijan is waiting for concrete steps by international community and the countries co-chairing the OSCE Minsk Group, which is designed to find a peaceful solution to the Nagorno-Karabakh conflict.
Related News