14 October 2016 17:43 (UTC+04:00)
3 927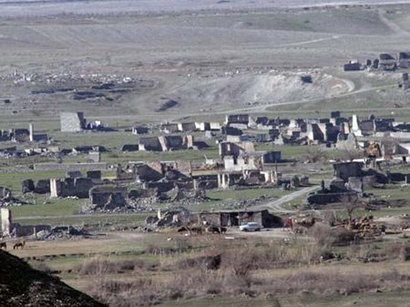 By Rashid Shirinov
Despite the long-lasting talks over the settlement of the Nagorno-Karabakh conflict between Azerbaijan and Armenia, and numerous agreements adopted in that regard, Armenian side continues showing its unconstructive position and reluctance to address the problem.
Azerbaijan has always upheld a just position by advocating the peaceful solution on the Nagorno-Karabakh problem. The country's authorities many times spoke for coming to the negotiating table, whilst the.Armenian side holds absolutely different stance. Armenian troops violate the armistice on the frontline on daily basis . Moreover, the Armenian army regularly holds military exercises in the occupied Azerbaijani lands, which is unacceptable and which hinders the peace process.
Furthermore, the Armenian side avoids another meeting on the conflict between Azerbaijani and Armenian presidents. After the two meetings in May and June 2016, which followed the April clashes between the Armenian and Azerbaijani troops, no progress in the solution of the conflict has been observed.
The reason of absence of meetings is evident – suspending of the conflict's resolution is beneficial for Armenia. While Armenian troops continue occupying the Azerbaijani lands, over 1 million of Azerbaijanis, who were evicted from their houses in Nagorno-Karabakh, have to live a refugee life, dreaming of coming back to their native land.
Armenia intends to preserve the status quo in the Nagorno-Karabakh region of Azerbaijan and does everything possible not to let the conflict find a solution. However, this clear fact is being overlooked by the Minsk Group.
In such circumstances, the recent statements regarding the Nagorno-Karabakh problem by U.S. Secretary of State John Kerry that "settlement of the conflict today is impossible" and by Russian presidential aide Yuri Ushakov that "Moscow is not optimistic about the settlement of the conflict in near future" may even more encourage Armenia in implementing its wrong policy by holding firm its unconstructive stance in the peace process.
The statement by the Russian presidential aide, Yuri Ushakov, on the Armenia-Azerbaijan Nagorno-Karabakh conflict is surprising and regrettable, Hikmat Hajiyev, spokesman of Azerbaijan's Foreign Ministry, believes.
"These remarks by Yuri Ushakov contradict the spirit of the Vienna and St. Petersburg meetings of the presidents and the OSCE Minsk Group co-chairs' statements, voiced repeatedly at the presidential level, on unacceptability and volatility of the status quo," Hajiyev told Trend on October 14.
The spokesman also stressed that Ushakov's statement is inconsistent with the detailed discussions on conflict settlement during Russian Foreign Minister Sergey Lavrov's recent visits to the region.
"The substantive talks should ensure changing the current status quo, which is unacceptable and unsustainable, and the withdrawal of Armenian armed forces from the occupied Azerbaijani territories. Remaining of the sovereign territories of Azerbaijan under Armenian military occupation is unacceptable," added Hajiyev.
---
Related News