ICT Solutions to host first International HR Conference in Vienna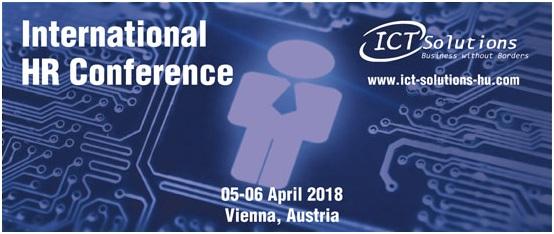 ICT Solutions is a fresh start-up company. With our professional team we are providing high quality conferences and trainings on an affordable price. We are hosting our events in European locations and welcome delegates from all over Europe. We are planning to host between 80 to 100 Senior Level HR Executives.
ICT Solutions is hosting its first International HR Conference in Vienna, Austria on the 5th and 6th April, 2018.
The two-day event is set with highly interactive Panel Discussions, Q + A Sessions and some of the key presentations by Industry Experience HR Professionals.
The key takeaways are noted below:
The Impact of GDPR (General Data Protection Regulation) on HR and Personal Data
Digitalization in HR Today
Generation X, Y & Z
How to Enhance employee engagement in the times of constant organizational Change
HR Transformation & Innovation
RPA (Robotic Process Automation) in HR
How to attract and recruit the best talent from the Market Today
Here you can see a list of the already confirmed speakers at the conference:
Mia Vanstraelen - HR Director of IBM
Barbara Covarrubias Venegas - President SIETAR Austria
Mohamed Mesbah – Head of HR at American President Lines
Inga Ezera - International Personal Branding Coach | Entrepreneur | Inspirational Speaker
Ann Sofie Forssling - Owner of Reframing Leadership
Adam Hodgkinson - BBC - HRBP Development Partner, Strategic Group Projects & Nations
Adem Duman – Executive Vice President at Vakıf Emeklilik
Felice Valente - Global Head of People Development & Recruitment at Pirelli
Join 80 to 100 Senior Level HR Executives from across Europe, listen to valuable presentations and build your network at ICT Solutions' International HR Conference in Vienna.
'On the first day of the conference, after the end of the program, we are organizing a sightseeing walking tour for our delegates in the beautiful inner city of Vienna. Take part in a 1,5-2 hours guided tour where you can hear some insights about the city's history, buildings, residents while building your network with fellow delegates. It is free of cost, in addition we provide 2 tickets for public transportation and a city map as well.'
For early bird passes and more information please contact us at [email protected]