21 January 2016 10:00 (UTC+04:00)
1 691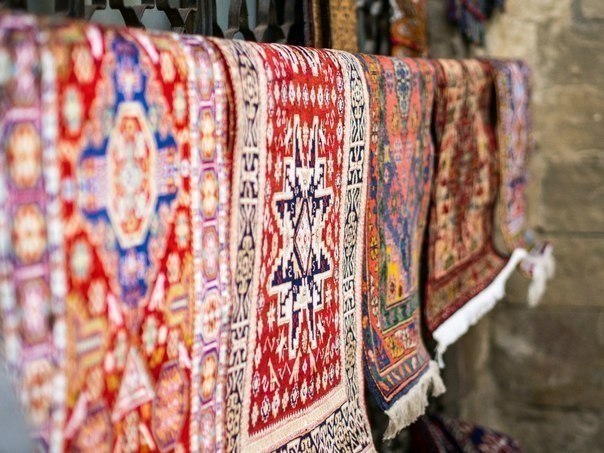 By Amina Nazarli
Carpets were something majestic, sacred and fascinating in the traditional families in Karabakh, the heart of Azerbaijan famous not only for its picturesque nature, but ancient culture.
The beauty and sophistication of the Karabakh carpets differing with unique mixture of colors -- no matter large or small -- is the most appreciated piece of the eastern carpet-making art throughout the world.
Archaeological evidence suggests that weaving art existed in this gorgeous part of Azerbaijan in the III millennium BC. Barda, located at the crossroads of great caravan routes of the Silk Road, was considered to an ancient center of carpet weaving in Karabakh.
In the sources dating back to the 9th to 16th centuries suggest that Arab historians wrote how carpets of these regions were popular throughout the Middle East.
Karabakh carpets have 33 compositions. Due to the peculiarities of wool belonging to the local sheep of the region, the carpets were distinguished by particularly their high, thick and fluffy pile.
Colorful Karabakh carpets, which are classified in four groups, represent a fabulous symphony of the most delicate shades of the amazing Karabakh nature.

Since ancient times red dye derived from plants and insects acts as a background for intermediate areas of Azerbaijani carpets.

Karabakh master could skillfully blend traditional local patterns with various cultural and artistic innovations that penetrated into Azerbaijan together with the Arabs, Turks, Seljuks, Mongols and Europeans for centuries.
Carpet specialist Roya Tagiyeva praises the Great Silk Road, which she thinks played a big role in the development of Azerbaijani carpet.
"In the 13th century, Azerbaijan maintained close economic and cultural ties with China. Thus Chinese motifs and themes such as clouds, images of dragons and phoenixes appeared at the national carpet art," she said.
Karabakh masters creatively processed these elements, combining them with the local ornamental style and tradition, creating new ornamental compositions. Famous Karabakh so called "draconian carpets" are such as the "Khatai", "Gasymushagy" and "Chalabi".
Armenia's aggression against Azerbaijan and occupation of irs Karabakh region together with seven adjacent regions in the early 1990s made a heavy blow to the carpet weaving in this region. Now Karabakh carpet school is obliged to exist far from its original home, missing for native lands.
Karabakh carpets still retain their glory, featuring in many prestigious international auctions, estimated at tens of thousands of dollars.
Samples of the Karabakh carpet weaving as cultural heritage of Azerbaijan, kept in major museums, including the Louvre, Hermitage, and adorn the Vatican and the White House.
--
Amina Nazarli is AzerNews' staff journalist, follow her on Twitter: @amina_nazarli

Follow us on Twitter @AzerNewsAz