Azerbaijan publishing National Geographic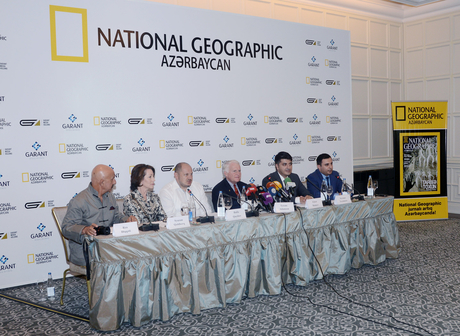 By Nigar Orujova
National Geographic, one of the world most recognized magazines, has been publishing in Azerbaijani language since the beginning of September.
Garant Media Holding in partnership with the National Geographic Society launched the local-language edition of National Geographic magazine in Baku on September 1.
The new National Geographic Azerbaijan edition was unveiled in a ceremony at the Four Seasons Hotel in Baku.
The event was attended by National Geographic photographer Reza Deghati; Editor in Chief, National Geographic Magazine and News, Susan Goldberg; and National Geographic's head of international publishing, Terrence B. Adamson; Garant Media Holding CEO Elnur Baimov; and National Geographic Azerbaijan Editor in Chief Seymur Teymurov.
National Geographic Azerbaijan's debut issue leads with a feature on "Colors of Azerbaijan." The magazine will be available monthly on newsstands and by subscription.
The new edition will publish content from the English-language edition and will introduce local content of interest to the Azerbaijani reader. The price for the magazine on newsstands will be 4 manats ($5).
"National Geographic launched its first edition in the Caucasus in Georgia in 2012, and we're excited to expand our reach in the region with National Geographic Azerbaijan, the 40th local-language edition of our magazine," said Adamson.
"National Geographic magazine continues to win awards for its timely coverage of critical issues that affect our planet, and we are excited to partner with Garant Media Holding to bring these important stories to Azerbaijan in the local language," he added.
Printed in English since 1888, National Geographic provides in-depth coverage of cultures, nature, science and technology through comprehensive and timely articles and legendary photographs and maps.
National Geographic community, with its 126-year history, is one of the largest nonprofit scientific and educational organizations in the world that inspires people to care about the planet.
The magazine is read by 60 million readers around the globe each month. In addition to English, the magazine is now published in 40 local languages.
The most recent local-language edition of the magazine are the Ukrainian edition that debuted in March 2013, and National Geographic's Taiwan edition that expanded to Hong Kong in July 2013.