8 May 2014 16:42 (UTC+04:00)
2 025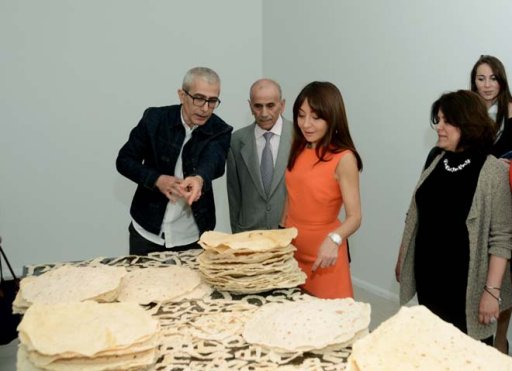 By Nigar Orujova
Azerbaijani Museum of Modern Art is hosting an exhibition called "The true meanings" by Azerbaijani artist, sculptor, designer, poet, philosopher and theorist Chingiz.
Speaking at the opening ceremony, which was held on May 5, head of YARAT! contemporary art space Aida Mahmudova talked about the unique and creative searches of the artist, and his exceptional art world.
Chingiz's works attract public attention not only in Azerbaijan, but also in many parts of the world. Philosophical and theoretical studies of modern conceptual art are the main theme of his works.
The artist graduated from Art School named after Azim Azimzade and sculpture faculty of Azerbaijan State University of Arts. While being a student, he mastered in different materials and techniques. These skills have extended his possibilities of self-expression.
Today, he widely uses collage, street art, installation, performance, video, in his art.
Chingiz has been participating in a number of exhibitions and art festivals, acting as curator and giving lectures around the world since 1986.
Chingiz's works are represented in collections in Azerbaijan, Russia, Ukraine, Vietnam, USA, UK, Australia, Italy, Estonia, and France.
Addressing the opening ceremony, the artist expressed gratitude to all the participants first and then talked about the essence of the exhibition and special features of his art.
Chingiz noted that he spent a lot of time for this exhibition adding he tried to bring his thoughts to the audience with the power and language of art.
The exhibition, which will be open until May 31, includes more than 20 new works in different styles.
One of the most attractive exhibits is the work entitled "Our brain is creator of walls". Chingiz has built a small stone wall with a little window, and placed there a self-portrait - wax figure of the natural size.
In this work the artist shows that the ideological walls including customs, traditions and stereotypes are the fruit of the brain.
Related News