17 April 2013 14:17 (UTC+04:00)
1 273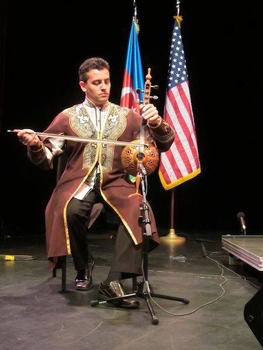 By Sabina Idayatova

Courses of Azerbaijani music and culture were launched at the music department of Stanford University in the United States this month, Azerbaijan's state news agency Azertag reported on Tuesday.
According to the Consulate General of Azerbaijan in Los Angeles, the courses, titled "Music of the Land of Fire", are the first courses dedicated to the study of Azerbaijani music in the history of the university, which is based in the US state of California.
The classes are conducted by accomplished Azerbaijani kemancha player Imamyar Hasanov, who lives in San Francisco.
Stanford University graduate, ethnic Azerbaijani Crystal Bargeleim assists Hasanov in teaching the theory of the course.
Stanford University students will become familiar with the rich musical culture of Azerbaijan, in particular, the practical and theoretical aspects of Azerbaijani folk music Mugham, learn how to perform Azerbaijani songs on kemancha and other musical instruments.
At the end of the course, which will conclude with a final exam, a concert devoted to Azerbaijani music will be arranged.
Stanford University is located near the Palo Alto city, 60 km south of San Francisco, in the heart of Silicon Valley, California. The university is ranked the first among the world's universities on arts and humanities.
Azerbaijani mugham began to enter world cultural heritage at the beginning of the last century.
In 2003, UNESCO recognized mugham as a Masterpiece of Oral and Intangible Cultural Heritage of Humanity.
Vocal-instrumental varieties of such compositions are performed by a group of musicians, consisting of a singer - khanende, playing on a gaval (percussion instrument), and stringed musical instruments tar and kemancha.
The mugham, whose roots go far back into history, is a pearl of Azerbaijani musical art and is frequently applied music among singers and bands all over the world.