Baku hosts mugham musical contest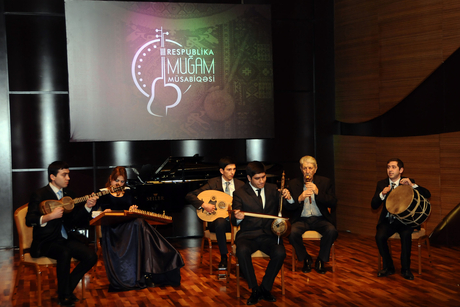 By Nigar Orujova
A nationwide mugham (folk music) contest kicked off in the Azerbaijani capital Baku on Monday as part of the third International Music Festival "World of Mugham".
The three-day event is co-organized by the Heydar Aliyev Foundation, Friends of Azerbaijani Culture Foundation, Ministries of Culture and Tourism and Education, Union of Composers and Azerbaijan National Music Academy.
The first try-out took place on February 11-12 with the participation of 11 instrumental bands playing national musical instruments -- tar, kamancha, balaban -- and 9 solo performers, while the second one was held on Wednesday, featuring 22 bands and 18 solo performers.
A gala concert on the contest results is scheduled for February 15.
The winners of the solo and instrumental folk music contest earn the right to participate in the "World of Mugham" international music festival, which will be held in Baku March 15-18.
The recently adopted action plan of the International Music Festival outlines participation of Azerbaijani men of culture and science as well as young people in the events to be held as part of the festival, determining venues where the festival will take place, organization of opening and closing ceremonies, and preparation of various materials including programs, booklets and invitations.
Azerbaijani national folk music mugham presupposes vocal-instrumental varieties performed by a group of musicians consisting of a singer - khanende, playing on a gaval (percussion instrument), and stringed musical instruments tar and kemancha.
Mugham began to enter world cultural heritage at the beginning of the last century.
UNESCO included "Azerbaijani music" record consisting of 50 albums into the collection "Anthology of the world's traditional music" in 1971. The records of Azerbaijan's mugham were released again by UNESCO in the series "Musical sources" in 1975.
In 2003, UNESCO recognized mugham as a Masterpiece of Oral and Intangible Cultural Heritage of Humanity.