National Culinary team merits medals at Global Chefs Competition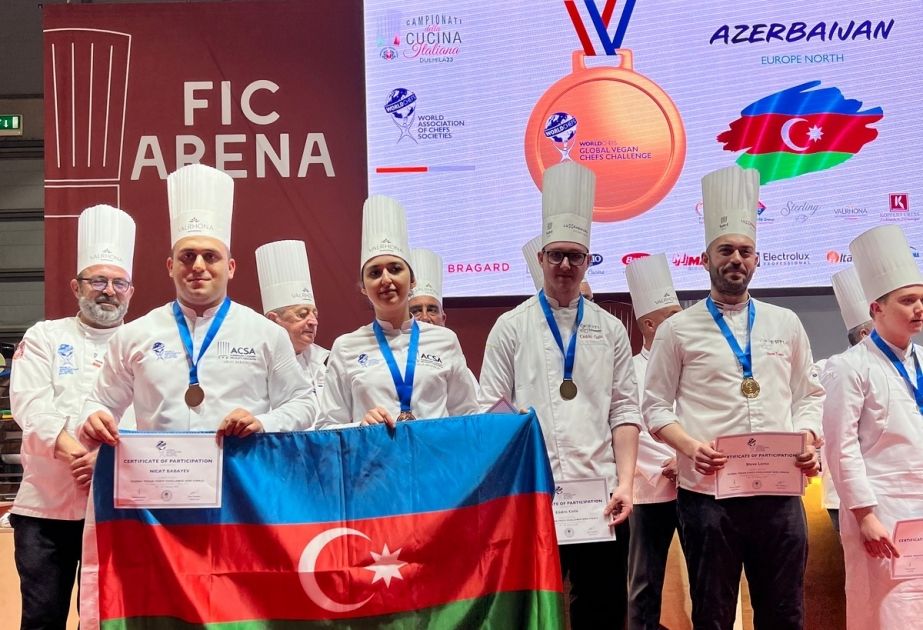 Azerbaijan National Culinary team has claimed three bronze medals at European Grand Prix 2023: Global Chefs Competition.
The national chefs managed to stand out in all categories on the first day of the semifinals in Italy, Azernews reports.
The culinary team's participation in the competition was assisted by the Azerbaijan State Tourism Agency.
Azerbaijani chefs competed in four categories: head chef Sarkhan Mammadov and his assistant chef Abdulla Abdullayev won a bronze medal in the Global Master Chefs Competition, head confectioner Gulnar Rasulova and assistant Zinyat Akhundova showed their best in the Global Pastry Chef category, and the head chef Nijat Babayev and assistant Leyla Valiyeva won bronze medals in Global Vegan Chef competition.
These victories qualified the members of the Azerbaijani team for the final stage of the "World Chefs' Congress 2024 event, which will be held in Singapore next year.
Head of Gastronomy Tourism Management at Azerbaijan Tourism Bureau Sakina Asgarova says that the selection of the national team members for the European Grand Prix 2023 was made with the help of Azerbaijan Culinary Specialists Association (ACSA), an associate member of Worldchefs and graduates of the CASA School of Culinary Arts.
She emphasized that the national culinary team will demonstrate their skills in several more international competitions.
Notably, European Grand Prix 2023: Global Chefs Competition has brought together chefs from Croatia, Belgium, Hungary, Cyprus, Romania, Latvia, Germany, Serbia, Estonia, Portugal, Slovenia, Spain, and Luxembourg.
The State Tourism Agency installed a stand for the tourism brand "Karabakh, Shusha", which aroused great public interest.
---
Follow us on Twitter @AzerNewsAz