10 January 2018 11:12 (UTC+04:00)
1 316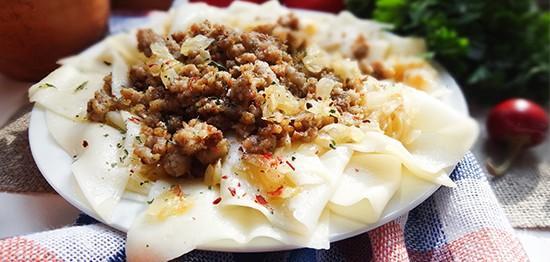 By Aygul Salmanova
Winter has arrived. It's time to warm yourself and create something special, tasty and hot in the kitchen. In the cold winter, when the landscape outside the window does not please with the brightness of colors, you want a variety of delicious and colorful dishes.
Fortunately, there are special nourishing, tasty, and warm dishes in Azerbaijani cuisine, which are traditionally prepared in the winter. The ability to cover a rich, delicious and beautiful table is among the most the main skills of each Azerbaijani woman.
We present five Azerbaijani dishes, which will definitely warm you in the cold winter days and please with their amazing taste.
Piti
Piti is a soup prepared in individual clay pots in the oven. The soup is made of mutton and vegetables, infused with saffron water adding flavor and color to it.
Long and slow cooking is the secret of this meal. To cook Piti you need: 1 kg boneless lamb, 200-gram lamb fat chopped into 50 gram pieces, 500 gram chickpeas, 1 kg potato, 120 gram oz chestnuts, 3 onions, 8 dried alycha, 2 or 3 threads of saffron, salt and pepper.
The dried chickpeas must be wet overnight in cold water and then rinsed. Put the chopped onions, lamb fat and lamb into a flame-resistant dish (usually a clay pot) and cover it with water 5 cm above the level of the meat. Let it slowly boil and skim off the foam from the surface for three hours. Preheat the oven to 160 degrees, and cook for two hours.
Meanwhile, prepare the chestnuts, pierce and boil them for 5 minutes and then remove them from water and shell. Prepare a few threads of saffron and cover them with a cup of boiling water and leave them to absorb the water for 30 minutes.
Add the chestnuts, chopped potato, alycha, saffron infusion, salt and pepper to taste the Piti that was in oven for 2 hours. But it is not the end yet, return the soup to the oven and cook for half an hour.
Now, serve the hot and flavored Piti with bread, rings of raw onion and sumac and enjoy the lip smacking result.
Dushbara
This national Azerbaijani dish is a kind of home-made dumplings. Usually it is cooked on lamb broth.
In order to prepare this delicious soup, you need to make broth from the bones of lamb, and mint the pulp adding onions and spices.
A fresh, steep dough is rolled up to a thickness of 1 mm, then cut into flat squares and minced meat is placed in the center of each square. Dumplings are wrapped, folding the squares in half or a triangle. These dumplings are cooked in the broth for about 5 minutes. When serving dushbara, vinegar with garlic is served in separate, and dried mint is added to the meal.
Traditionally, every Azerbaijani woman have not only to cook this popular dish, but also be able to make dushbara as small as possible, to fit ten of them in a tablespoon.
Gutab
Gutab, another masterpiece of the national cuisine, is the Azerbaijani equivalent of a pizza, which can be easily prepared from the content of your fridge. No one can speak about this mouth watering dish without a desire to eat some herb or meat gutabs.
Traditionally, there are green, meat and offal, cottage cheese and pumpkin gutabs, and many other variations, even with camel meat. It is made of thinly rolled dough cooked briefly on a saj, a local oven in the form of a flat iron plate.
Gutab is traditionally washed down with ayran, a cold yogurt beverage mixed with salt and herbs.
Khingal
One of the most delicious and far-famed Azerbaijani meals, Khingal, has two kinds: Sulu khingal and Guru khingal. The difference between these two kinds is that Sulu khingal is served with broth, chopped meat and peas, while Guru khingal with roasted meat. That is why this meal can be served both as a first and a second course meal.
To prepare four portions of khingal, you will need: 500 grams of flour, 1 egg, 2 heads of onions, 200 ml of water, 2 tablespoons of butter, 2 tablespoons of vegetable oil, 200 g of kefir (sour-tasting drink make from cow's milk fermented with certain bacteria), 1 clove of garlic, salt.
From flour, salt, eggs and water knead steep dough (the amount of water can vary). Divide the dough into several large parts. Sprinkle the table with flour. Roll out these parts of dough and cut them into strips.
Boil and salt water in a large pan. Add dough strips and cook until they become translucent. Cut the onions into half rings and fry them until they get dark golden color. Add salt, garlic in kefir and mix well.
Put cooked dough on a wide plate, then top it with meat, sauce and onions.
Shekerbura and Pakhlava
Desserts are the last but the most addictive dishes in Azerbaijan. The most popular desserts that come to mind when thinking about cold winter days are shekerbura and pakhlava.
Shekerbura is a sweet patty, filled with ground almonds, hazelnuts, or walnuts mixed with sugar or honey. Sometimes, shekerbura is prepared with various national ornaments put on it. They are also one of the main irreplaceable symbols of the national holiday -- Novruz Bayrami.
Pakhlava is another popular dessert. Several layers of very thin dough alternate layers of chopped nuts with honey to prepare this pastry. Pakhlava is traditionally served as triangular pieces decorated with a nut in the center.
--
Follow us on Twitter @AzerNewsAz
Category News