24 August 2017 14:22 (UTC+04:00)
4 007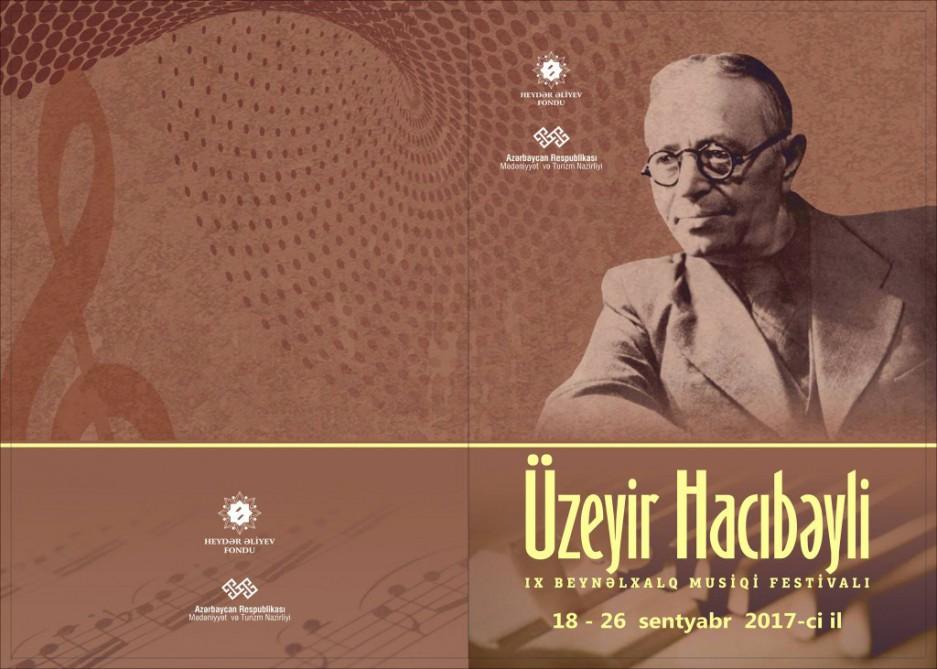 By Laman Ismayilova
The Uzeyir Hajibeyli International Music Festival will once again transform Baku into a stage for world-renowned musicians.
Uzeyir Hajibeyli is the founder of Azerbaijani written music and author of the first opera in the East. He was close to traditional Azerbaijani music and sought to maintain its best features in his own compositions.
Since 1995, September 18, the birthday of legendary composer Uzeyir Hajibeyli is celebrated as National Music Day in Azerbaijan. The International Music Festival is organized yearly to honor creativity of the world-famous composer.
The 9th edition of the festival is scheduled for September 18-26, Azertac reported. Local and foreign musicians will once again thrill Baku audience with magnificent performance of classic music.
The musicians and collectives from Germany, Russia, Turkey, Georgia, France, Bulgaria, Ukraine and Iran, including Novosibirsk Philharmonic Orchestra, Russian Piano Trio, Bashkender Academic Orchestra, Georgian Choir, Eliso Bolkvadze, Plamena Mankova, Sergey Doqadin , Boris Andrianov, Filip Kopachevski, Ertu Korkmaz, Berdia Kiyares and others will perform Uzeyir Hajibeyli's and other composers' works.
Born in 1885 in the heart of Karabakh -Shusha, Hajibeyli received his early education in a religious school (madrasah). Later he studied at a two-year Russian-Azerbaijani school, where he familiarized himself with the heritage of the famous classic writers of the East and the West.
He frequently wrote articles, topical satire and satirical cartoons for Molla Nasraddin magazine, Kaspi and other newspapers. His material tackled political and social problems and the need for education.
Continuing the tradition of world classics and combining them with national folk art, Hajibeyli laid the foundation of a national musical style.
In 1908 the opera Leyli and Majnun was staged in Baku. It was the first opera in the Muslim East. Uzeyir Hajibeyli based the libretto on the poem Leyli and Majnun by Azerbaijani poet Mahammad Fizuli. The music of Leyli and Majnun is based on traditional folk music and dance, musical genres that relied on oral traditions. Thus Hajibeyli created a new musical genre, merging eastern and western culture.
The success of Leyli and Majnun encouraged Hajibeyli to write more operas, fusing eastern and western styles.
In 1909, Hajibeyli wrote his second opera Sheikh Sanan. In contrast to Sheikh Sanan, his operas Rustam and Sohrab (1910), Asli and Karam (1912), Shah Abbas and Khurshudbanu (1912), and Harun and Leyli (1915) were entirely based on national folk music elements, primarily mugham.
He wrote three comedies including, "Husband and Wife" (1910), "If not this one, that one" (1911) and "Arshin Mal Alan" (1913). Through his comedies, he satirized traditional feudal patriarchal beliefs.
"Arshin Mal Alan" or The Cloth Peddler was the latest and one of the most popular operettas of the eminent composer. The comedic and romantic operetta premiered in Azerbaijan in 1913, thus becoming the first operetta in the entire Muslim world.
Written in 1910, "If not this one, that one" was the composer's second musical comedy.
It is considered one of the most courageous and principled works in theater arts of pre-revolutionary Azerbaijan, where Hajibeyli was able to show the social and domestic conflicts in Azerbaijan in the 19-20th centuries.
Furthermore, Hajibeyli composed music for the national anthem of Azerbaijan Democratic Republic (also the anthem of the modern Republic of Azerbaijan) as well as the state anthem of Azerbaijan SSR.
Hajibeyli died of diabetes at the age of 63, and was buried at the Alley of Honor in Baku.
One of Hajibeyov's greatest legacies was bringing forward the idea of establishing a professional music school. Hence the Baku Academy of Music, was founded in 1920 and named after Hajibeyov after his death. The school has trained Azerbaijan's finest composers such as Gara Garayev, Fikrat Amirov, Jovdat Hajiyev, Soltan Hajibeyov, Tofig Guliyev, and Vagif Mustafazade.
His statue was erected in front of the Academy that is still devoted to the synthesizing Eastern and Western musical traditions.
---
Laman Ismayilova is AzerNews' staff journalist, follow her on Twitter: @Lam_Ismayilova
Follow us on Twitter @AzerNewsAz
Related News