Khojaly Massacre-not frozen, never forgotten [PHOTO]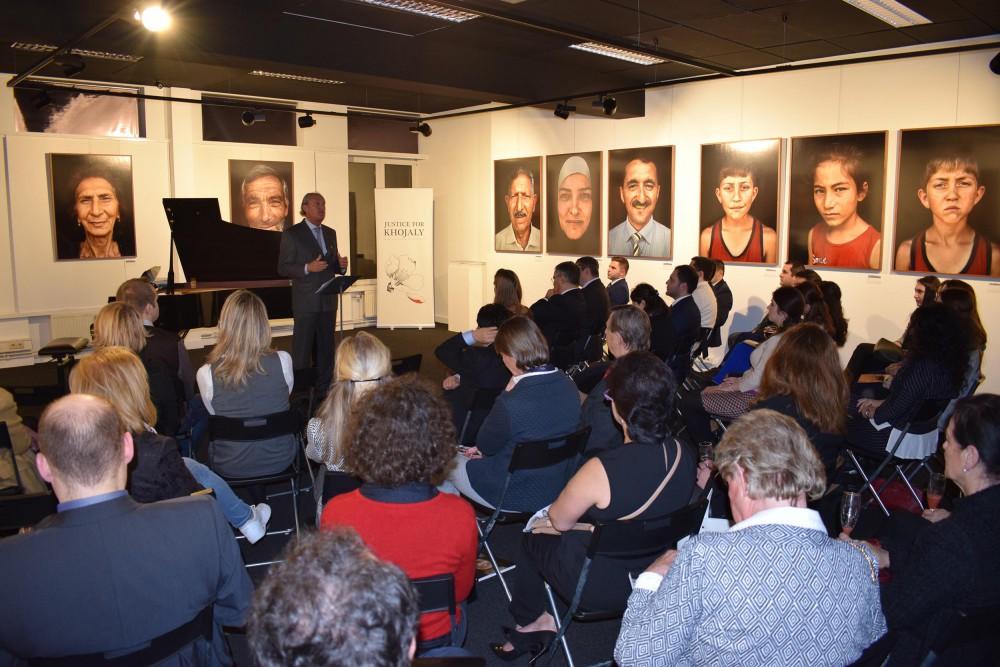 By Laman Ismayilova
After touring the world for the past four years, famous exhibition Five Roads Back Home – showcasing the work of renowned German photographer Philipp Rathmer – finally came to Brussels, Belgium on February 22.
The photos were displayed in the art nouveau-styled Art Thema Gallery, Azertac reported.
This series shows portraits of internally displaced persons (IDPs), victims of Nagorno-Karabakh conflict.
The exhibition also served to commemorate the 25th anniversary of the Khojaly Massacre, large-scale bloody campaign of genocide against Azerbaijanis, committed by the Armenian troops. Some 613 civilians mostly women and children were killed in the massacre, and a total of 1,000 people were disabled. Eight families were exterminated, 25 children lost both parents, and 130 children.
"I asked a lawyer, specialising in International Penal Law, for his advice. He concluded that judicial action against the perpetrators is possible with success, even before the International Criminal Court (ICC) in The Hague," said Marc Verwilghen, Director at TEAS Benelux.
"The refugees and internally displaced persons (IDPs) are still housed in camps across the country. In a nation of 9.7 million people, this amounts to one of the highest levels of displacement per capita in the world," he added.
"These are people with no voice, who are unable to return to their homes and lands because of the illegal occupation of Nagorno-Karabakh and seven surrounding regions by Armenia's armed forces – in defiance of four UN Security Council resolutions and of 22 years of OSCE Minsk Group negotiations. In defiance of all this… there is still no progress!" said Marc Verwilghen.
in turn, Rathmer said that Nagorno-Karabakh is one of the world's forgotten conflicts. "The conflict between Armenia and Azerbaijan developed into a war in 1992 that killed thousands of people. Now, 25 years on, the conflict is far from over. A ceasefire secures a fragile peace. These IDPs suffer the consequences to this day. In 2012, I visited some of the ordinary victims of this unresolved conflict in their camps. The people told me of their fate, their hopes and their fears – some very candidly, some with a certain reticence", he added
"These photos show one side of the conflict – the side that had to flee and give up their homes. They represent all those who are displaced in the world's many wars. One aspiration was common to all – they wanted to take one of the five roads leading back to the occupied regions – one of the Five Roads Back Home," he added.
Fuad Isgandarov, Azerbaijani Ambassador to the EU, Belgium and Luxembourg, for his part said that the Khojaly tragedy has changed too many things for all Azerbaijanis. It is regrettable to repeat again that the perpetrators of this atrocity are known and still not punished.
"I am very glad that the TEAS Benelux office is organising this unique exhibition in the heart of Europe, in Brussels, where all Europeans should learn about what happened in the Azerbaijani city of Khojaly 25 years ago. I also hope that all Azerbaijani Nagorno-Karabakh refugees and IDPs will return back home soon, using one of the five roads that the photographer Philipp Rathmer shows in his work," he added.
The evening concluded with a performance of contemplative music by pianist, composer and singer-songwriter Nezrin Efendiyeva, the granddaughter of Fikret Amirov, one of the foremost Azerbaijani composers, who often combined the microtones of mugham from the occupied Karabakh region with western classical music. She is also the great-granddaughter of Mashadi Jamil Amirov, a khanende (mugham singer) and tar player from Shusha, the cultural hub of Nagorno-Karabakh, who also composed the 1915 opera Seyfal mulk, amongst other works.
---
Laman Ismayilova is AzerNews' staff journalist, follow her on Twitter: @Lam_Ismayilova
Follow us on Twitter @AzerNewsAz