Iran, Azerbaijan eye financing railway project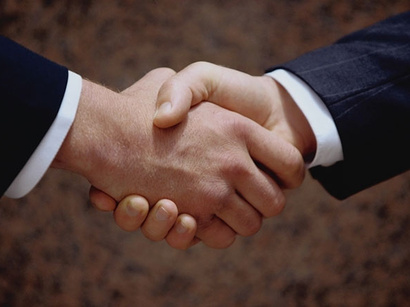 By Laman Ismayilova
Iran's Deputy Transport Minister Asghar Fakhrieh-Kashan and Azerbaijan's Deputy Economy Minister Sahil Babayev have attended a session of the transport working group of the two countries held in Baku.

The working group has discussed cooperation between Iran and Azerbaijan on the financial issues of a project for the construction of Rasht-Astara railway, the Iranian embassy in Azerbaijan reported

Asghar Fakhrieh-Kashan has said that Iranian and Azerbaijani constructors will cooperate in the construction of the railway.

Iran and Azerbaijan will jointly invest in the project and the Azerbaijani government has decided to invest $500 million, he added.

The sides have prepared the draft of a memorandum of understanding (MoU) for joint investment in the mentioned railroad project and it is expected to be inked during Iranian President Hasan Rouhani's upcoming visit to Baku on August 8.

Fakhrieh-Kashan forecasted that the construction of the project will be launched within the next couple of months after finalizing legal procedures.

The 165 kilometer long Rasht-Astara railway lays inside Iran. Once the railway is completed, it will play a key role in developing the International North–South Transport Corridor.

Iran's southern port city of Bandar Abbas on the coast of the Persian Gulf will be connected to its northern neighbor, Azerbaijan, through the railway.

Iran's Ambassador to Azerbaijan Mohsen Pak Ayeen earlier said that the railway after inauguration will be capable of carrying 10 million tons of goods and three million passengers per year.
---
Follow us on Twitter @AzerNewsAz