Agrarian sector offers new opportunities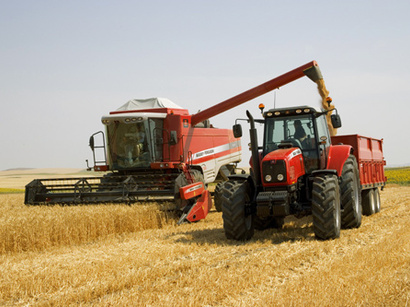 By Nigar Orujova
The agrarian sector of energy-rich Azerbaijan has reached a qualitatively new stage of development after declaring 2015 the Year of Agriculture in the country.
This was announced by Agriculture Minister Heydar Asadov at a Cabinet of Ministers' meeting on January 10.
The agricultural sector is important not only for increasing export potential of the country, but also for ensuring the country's food security. Asadov noted that mechanisms were improved to strengthen the state support to the sector.
The State Grain Fund has been created in Azerbaijan, to provide seed producers with high quality and performance seeds in 2015. Owners of animals have been issued subsidies to develop interest in this sector.
Last year was also characterized by increased institutional capacity in agriculture and structural changes. The construction of administrative and laboratory buildings for 52 region and city administrations is finalizing.
Agrochemical and seed laboratories, offices for diagnostic and inspection of seeds, technical control, etc. located in the same building, as well as establishment of the necessary information technology and infrastructure will give another impetus to implement challenges facing the agricultural sector.
Moreover, a veterinary town meeting the requirements of ISO was also created as part of these changes and reconstruction of the administrative and laboratory building of the State Phytosanitary Control Service is completing.
Another priority of the year was creation of an information system of the agricultural sector.
To this end, the system on identifying land area and registry of farms, and software created on other modules were tested based on the principles of an integrated control system in line with practices of EU. In addition, a pilot application of the system has started in the Khachmaz region.
Moreover, Agroleasing company has applied a 40-percent benefits on the initial cost of agricultural machinery transferred for leasing.
As a result, 4,100 users of equipment have received a discount of up to 50 million manats on the principle of ASAN Service over the year. This has significantly increased their ability to invest in this area.
Discount in the cost of fertilizers sold to farmers have been increased from 50 to 70 percents. As a result, along with other benefits in this area, the volume of imported fertilizers compared to previous years has increased from 85,000 to 150,000 tons, which is a major step towards achieving the level of developed countries.
In addition, subsidies for the purchase of fuel and motor oil have been increased by 25 percent, resulting in 22-percent increase for subsidies allocated for these purposes from the state budget.
The benefits were also presented for farmers who want to switch to modern irrigation systems, which play an important role in the transition from traditional irrigation methods. The new irrigation systems can conserve water resources and prevent degradation and salinization of lands.
Azerbaijan is famous for its fruits and vegetables, which are supplied to a number of countries. In 2015, Azerbaijan exported vegetable and fruit products worth $312 million, which is 7.2 percent more than the year before.
"The volume of export exceeded import by times. It should be noted that last year the growth of production in the agricultural sector has been achieved not by increasing the acreage and livestock, but due to intensive factors such as increased productivity," Asadov believes.