17 April 2015 14:30 (UTC+04:00)
1 400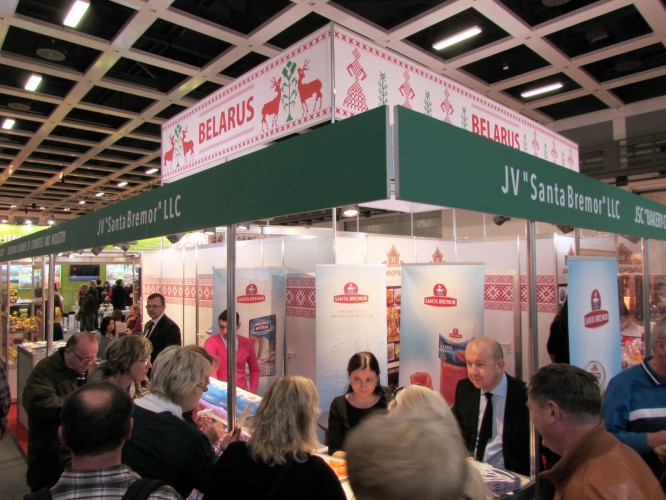 Over 50 Belarus food companies will take part in the 21st Azerbaijan international food expo WorldFood that is due in Baku on 21-23 May, BelTA said, referring to the Belinterexpo Company of the Belarusian Chamber of Commerce and Industry.

"WorldFood is the biggest event in Azerbaijan's food industry. Since 2015 has been declared the Year of Agriculture, the exhibition will draw close attention from the country's authorities and businessmen as well as from the international business community," the company said.

The Belarusian national exposition will feature more than 50 food companies. The total area of the pavilions will make up 312 square meters. Of them 214 square meters will be occupied by food companies.

Food companies will be divided into three themed blocks. Thus, Belgospishcheprom Concern and OAO Minsk Kristall will display sweets, juices, canned food, baby food, liqueur and spirits on the area of 80 square meters.

Brestmyasomolprom Concern and the holding companies Minoblmyasomolprom and Gomel Meat and Dairy Company will showcase a wide assortment of meat, dairy products and cheeses.

A wide choice of dairy products and cheeses will also be provided by the Belarusian dairies. Glubokoye Dairy, Lida Dairy, OAO Molochny Mir and Belovezhskiye Syry will display canned milk, drinking milk, milk beverages, cheeses, butter, curd and other dairy products.

Slutsk Bakery expects to attract the interest of Azerbaijan's food companies and trading networks to its wheat and rye flour, flour semises, cereals (buckwheat, semolina, pearl barley), and rapeseed oil. Bakery goods will be showcased by OAO Domochai Bakery.

The stand of the Belarusian Chamber of Commerce and Industry will demonstrate Belarus' economic potential, the country's export capacity, investment attractiveness, and the information on the country's leading companies.
---
Follow us on Twitter @AzerNewsAz