20 November 2014 18:18 (UTC+04:00)
2 117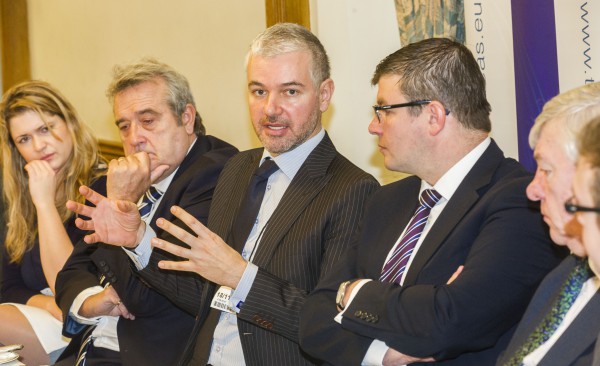 By Sara Rajabova
Azerbaijan's role in ensuring Europe's energy security was discussed in the parliament of the United Kingdom.
The European Azerbaijan Society (TEAS) has organized a timely debate in Parliament to discuss the future of the UK's energy supply and how this may be secured in the future.
The debate came at an important time, as the past year has seen the signing of the $45billion final investment decision (FID) between the Azerbaijani government and the BP-led Shah Deniz Consortium, AzerTag news agency reported.
David Hamilton MP, who hosted the debate, explained the background to the current crisis: "The biggest question is security of supply. It has become apparent that there is the potential for blackouts across the UK. Renewable energy technology has a role to play, but the public cannot wait for these systems to be constructed."
He said there have been no regular blackouts in the UK since 1985, and UK politicians are focusing on avoiding such issues.
"When I visited Azerbaijan earlier this year, I became interested by the way in which the BP-led Shah Deniz Consortium is developing its terminals and constructing the Southern Corridor to bring gas to the UK. The UK public expects continuity of supply, and it is the responsibility of government to ensure this," Hamilton said.
The groundbreaking ceremony on the Southern Gas Corridor took place in Azerbaijani capital Baku on September 20. Comprising the Trans-Adriatic Pipeline (TAP) and Trans-Anatolian Pipeline (TANAP), this will annually see up to 30bn cu.m (bcm) of Caspian and Central Asian gas being piped direct to an interconnector in Italy, bypassing Russia and ensuring European energy security. It was recently described by José Manuel Barroso, Former President, European Commission, as "a strategic energy avenue for the 21st century with truly geostrategic significance."
Jack Pegoraro, UK Public Affairs Manager, TEAS, said the UK was formerly a self-sufficient gas producer.
"North Sea oil and gas production has fallen by 30 per cent over the past three years, and that the UK will rely on gas imports to satisfy 70 percent of its needs by 2020. EU energy security affects us, for any price increase impacts prices across Europe. During the summer, many UK nuclear power stations were closed for maintenance, and all coal-fired power stations are being decommissioned over the next four years. Earlier this year, the Didcot B gas-fired power station caught fire. There is very little margin for error in the UK, and more extra capacity is required. There is a genuine potential for blackouts this winter," Pegoraro said.
He further noted that the situation in Ukraine, and civil war in Libya, have also demonstrated that there is a need for a diversity of sources to satisfy EU energy requirements.
"It is important to recognize the significance of Azerbaijan as an energy supplier. It is the only country that currently supplies the EU with gas using the South Caucasus pipeline that bypasses Russia. Construction of the Southern Corridor will also further increase the significance of the country," Pegoraro said.
Andy Sawford MP, Shadow Minister for Communities and Local Government, it is needed to challenge the oligopoly of suppliers around the world.
"Big political decisions need to be made, and we need a great deal of courage to ensure long-term energy supply security. My recent visit to Ukraine demonstrated that this is an important challenge that needs to be addressed, as EU energy supply and security is at risk. It is good to hear what is happening in Azerbaijan, as the groundbreaking on the Southern Corridor demonstrates that a new source of energy that will soon come on stream. An energy mix is necessary, and we need to change the way that the EU energy market operates," Sawford said.
Graham Stringer MP, Energy and Climate Change Committee Member, said "If we take the three objectives of energy policy – supply security, cost minimization and carbon reduction – we are currently failing. The move to renewable energy is taking an enormous amount of time and effort, and much of the necessary science and technology has not been developed."
Stephen Kinnock, Prospective Parliamentary Candidate (PPC) for Aberavon, for his part said overreliance on Russia has demonstrated that there needs to be an integrated energy policy and market across the EU.
"This would increase our ability to negotiate with a range of suppliers and achieve energy security. Throughout the EU, the jury is out regarding questions of safety over shale gas, so we are continuing to focus on conventional gas supplies and how energy security relates to our security in a broader sense. Azerbaijan knows this better than any other country," Kinnock said.
Related News