Azerbaijan, WB sign loan agreement on agriculture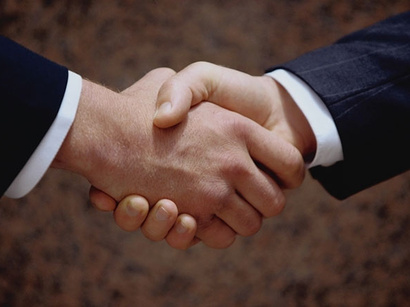 By Nigar Orujova
The World Bank (WB) and Azerbaijan's government have signed an agreement on allocation of a loan amounting to $34.5 million for the implementation of a project to strengthen the agriculture sector of the country.
The document was signed by the Head of WB office in Baku Larisa Leshchenko and the Azerbaijani Agriculture Minister Heydar Asadov.
Under the loan agreement, the funds will be allocated for a period of 15 years with a grace period of four years and an annual interest rate of libor +0,85 percent.
The total cost of the project is $ 54.25 million, some $34.5 million of which will be provided by a loan allocated by the International Bank for Reconstruction and Development (IBRD, part of the WB), and the remainder accounted for the government in the project.
The implementation term of the project is four years.

The project envisages strengthening of the competitiveness in this sector through the creation of a production chain, starting from initial agricultural production to creation of logistics system on regions and some products.
It is supposed to provide grants for production and processing enterprises and, if necessary, allocating credits to achieve the ultimate goal - the creation of the production chain, the bank said.
It is supposed to support the veterinary system. In addition, an important focus is to strengthening and improvement of the phytosanitary standards, procedures and veterinary services.
Earlier in May, Azerbaijan`s agricultural potential was a topic of discussion among Heydar Asadov, Larisa Leshchenko and Manager at the WB Dina Umali-Deininger.
The bank has financed more than 50 projects worth more than $3 billion after Azerbaijan joined it in 1992.
The WB previously announced the start of drafting a new strategy of operation in Azerbaijan. It also added that the implementation of the previous strategy for the period of 2011- 2014 will be completed in the middle of this year.
The new strategy will include several new spheres of activity. New directions could include the development of alternative energy sources and reform in the higher education with an emphasis on technical and vocational education, as well as creating a healthcare financing system.