27 April 2015 08:42 (UTC+04:00)
5 607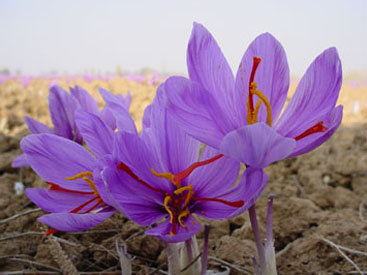 By Sabina Idayatova
Azerbaijan can earn up to 150 million manats (over $ 142.6 million) per year from industrial production of saffron, according to the head of Sustainable Development Research Center Nariman Aghayev.
"There is a need for a company to produce saffron in Azerbaijan. It is produced in most of the countries, but Azerbaijani saffron grown on the Absheron Peninsula is of higher quality. On this basis, there is no doubt that there will be demand for Azerbaijani saffron both in our country and abroad," Aghayev said.
According to him, in the Soviet times there was a farm in Azerbaijan which was engaged in the cultivation of saffron. "Besides, there had been a strong demand for that saffron. At that time, it was used in the food industry and pharmacology. At the same time, Azerbaijani saffron was used in the aerospace industry in the production of space suits. It should be noted that it was extremely difficult to acquire saffron at that time."
The king of spice, the spice of kings, saffron, is the most valuable flavoring in the world. It is the only spice whose price has remained very high for thousands of years. For over 4,000 years, the value of saffron has been equated to gold.
Azerbaijan is one of the oldest centers of saffron (Crocus sativus) in the world. According to written accounts, saffron was cultivated in some regions of Azerbaijan more than a thousand years ago, the practice having been introduced from Asia Minor and Persia. However, a more precise time of the appearance of saffron cultivation in Azerbaijan has not been determined. Saffron sprouts have been found on the foothills of the Greater Caucasus Mountain range in Azerbaijan.

Currently, 1 kg of quality saffron costs about $11,000 in retail outlets.
The high price of the spice is due to two reasons - very labor-intensive industry and a huge number of useful properties.
The most high quality sort of this spice is grown in Azerbaijan, more precisely, in Bilgah, a settlement near the capital Baku.
Also, it can be grown in Shamakhi region and Gobustan area. Before 1917, the sowing areas under saffron amounted to 150 hectares, and saffron export put Azerbaijan in a significant place in world markets.
Aghayev expressed regret that at present, saffron production "is of chaotic nature".
"Saffron is grown in small quantities in the farm fields in Azerbaijan, then they take saffron in small quantities for sale. Unfortunately, a lot of saffron is imported to Azerbaijan from abroad. Moreover, it is inferior in quality to the saffron produced in Azerbaijan."
Aghayev also noted that the government has taken on the development of saffron production.
"A scientific foundation has been created under the Azerbaijani president. Funds were allocated from the scientific research foundation for the purpose of development and adaptation of new varieties of saffron. On this basis, the state itself is interested in the restoration of industrial production of saffron in our country. Moreover, its production is very profitable. A gram of saffron is worth 10 manats in the Azerbaijani market."
Aghayev said further that saffron is widely used in Azerbaijani cuisine, therefore, problems with domestic demand will not emerge.
"Azerbaijani saffron is of great demand in Baltic states and Italy. The largest producer of saffron is Iran. Besides, it is also produced in Spain. But the quality indicators of Azerbaijani saffron are higher. This being said, despite the volume of saffron we produce, there will be demand for it in the world," he said.
Aghayev also said that at present, it is quite possible for Azerbaijan to achieve production level of 5-10 tons per year.
"I have offered a gram for 15 euros in Europe, and they agreed to that price," Aghayev said. "Given the fact that 5-10 tons equal 5-10 million grams, Azerbaijan's industrial production of saffron can potentially fetch 75-150 million manats a year."
Follow us on Twitter @AzerNewsAz