Azerbaijan to purchase 900 more freight cars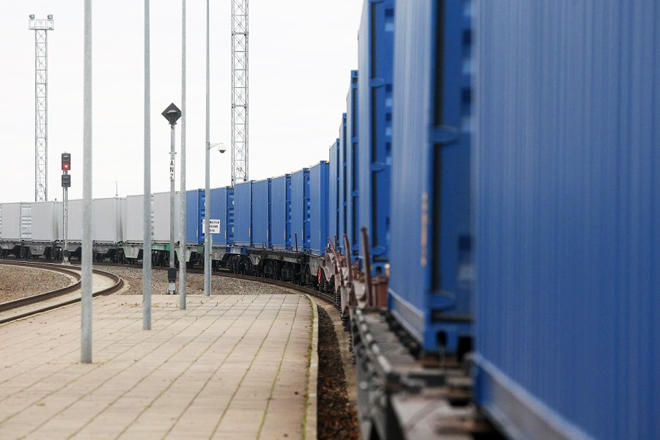 By Sara Israfilbayova
Azerbaijan Railways will purchase 900 new freight cars in the near future in connection with the rising volume of the cargo transportation.
Furthermore 200 new containers will be purchased, reads a monitoring report on the implementation of measures reflected in the Strategic Roadmap for the Development of Logistics and Trade in Azerbaijan.
The report shows that for renewal of the fleet of cars in 2015-2016, Azerbaijan Railways purchased 3,101 cars, including 401 covered trucks, 1,000 high-sided wagons, 200 wagons for the transportation of containers, 600 cisterns, 300 grain carriers, 100 hopper wagons, 400 universal platforms and 100 cement carriers.
By 2020, 18,900 new work places are planned to be created in Azerbaijan in the field of logistics and trade, in accordance with the Strategic Road Map.
As a result of the measures reflected in the Road Map, GDP is planned to be increased by 605 million manats ($355.88 million) in 2020.
Three strategic goals are defined for the development of the sphere of logistics and trade: creating an enabling environment for increasing trade turnover passing through Azerbaijan, getting higher added value from transit trade, introducing a mechanism for implementing the goals in the field of logistics and trade.
Today, Azerbaijan participates in such large-scale railway projects as the International North-South Transportation Corridor and Baku-Tbilisi-Kars (BTK).
The transport corridor "North-South" is designed to connect Northern Europe with South-East Asia, including the unification of the railways of Azerbaijan, Iran and Russia. At the first stage, along the corridor, it is planned to transport five million tons of cargo per year, increasing later to more than 10 million tons of cargo.
The BTK railway is constructed on the basis of the Azerbaijan-Georgia-Turkey intergovernmental agreement. The main purpose of the project is to improve economic relations between the three countries and gain foreign direct investment by connecting Europe and Asia.
The line is intended to transport one million passengers and 6.5 million tons of freight at the first stage. This capacity will then reach 3 million passengers and 17 million tons of cargo.
The first test train on the Baku-Tbilisi-Kars (BTK) route left Turkey for Georgia on July 20.
---
Follow us on Twitter @AzerNewsAz