5 December 2014 15:15 (UTC+04:00)
602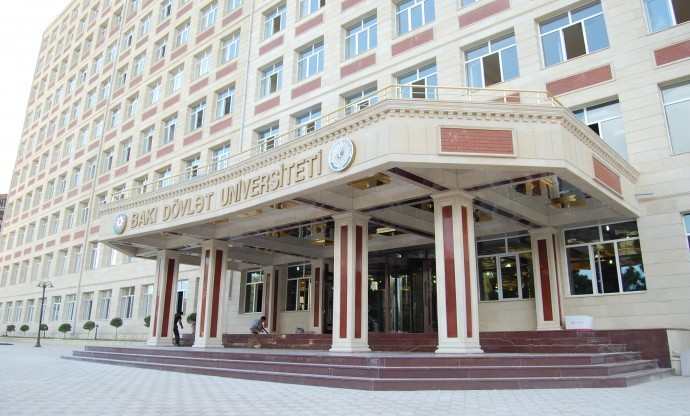 By Sara Rajabova
Azerbaijan is highly interested in the modern technologies, including nanotechnology, ecological projects and integration into the European education system and a number of EU universities offer curricula on industrial nanotechnology and environmental engineering including courses on nano structured material for monitoring and advanced improving methods for environmental problems. ECONANO is one of first project which will help engineering implementation of ecological issues based on Nano-science through training a new generation of specialists.
Baku State University is carrying out the ECONANO project within the framework of the European Union's Tempus program by coordination of Sapienza University of Rome. University of Paris, University of Patras, Greece, Azerbaijan University of Architecture and Construction, Qafqaz University, Ecolab Monitoring Centre and Education Ministry of Azerbaijan are the main participants of this project. The main goal of the project is the creation and improvement of master courses curricula on «Ecology Engineering based on nanotechnology". The program is based on lectures of professors of EU and Azerbaijani universities for 12 successful students who have master's level. After completing theoretical and practical courses in BSU, the students would be dispatched to Italy, France and Greece to carry out post-master dissertation research for three months.
AzerNews presents an interview with Prof. Ing. Luca Dipalma, who is the coordinator (Grant-Holder) of the EU TEMPUS Project "Curriculum reform and the modernization of ecology engineering based on nanotechnology in Azerbaijan" – ECONANO" Project n. 543924-TEMPUS-1-2013-1-IT-TEMPUS-JPCR. Dipalma is the associate professor in Materials Science and Technology, Faculty of Civil and Industrial Engineering, Sapienza University of Rome. He has Ph.D. in Industrial Chemical Processes (1999). He is the scientific responsible at DICMA for the research agreement with ISPRA in the field of environmental damage and protection. He was coordinator and secretary of the teaching board of the Ph.D. in Chemical Engineering and Processes of Sapienza University of Rome. He also was vice-director of the Interuniversity Centre on Technology and Chemistry for the Environment. Dipalma is the author of more than 110 publications on international journal or national and/or international conferences proceedings, in the fields of treatment of industrial wastewater and sludge; hazardous materials encapsulation in matrix and solidification/stabilization of hazardous wastes; energy and materials recovery from industrial wastes and polluted soil and sediment remediation. He is a member of the Editorial Board of two international journals, and also serves as a referee for the main international journal in the field of environmental technologies and applied chemistry.
Question: Professor what is your first impression of Baku State University?
Answer: I have two types of impressions. The first one is regarding the colleagues, the university as a structure, laboratory works and regarding the organization of the courses, and the second one is about the students. So starting from the first one, my first opinion is that you have very good laboratories, your personnel are well trained and there is a ground for collaboration in the future. Regarding the structure of the courses, I don't know yet if they different from other universities or not. For example, about ecological engineering courses, or engineering faculty, I need to see in depth the exact modules and courses, because our impression is different with yours about what ecological engineer, environmental engineer and chemical engineering are.
More or less when I talked with the students I saw that they are very well prepared on their specific skills, for example, engineers have got good information on engineering concepts and the chemists have a very good knowledge on basic principle of fundamental chemistry. So my impression is very positive. And the students are very interested and motivated. This is very impressive because often when we go to give lectures, some students are very interested, but other are not because what we are doing, may be too far from what they have already learnt.
In this university, the students know exactly what we are talking about, because of their background. This concept has been already presented to some extend in Azerbaijan. We are just supposed to improve them and this is easy for us because you have to only provide some high level lectures instead of basic lessons. This is important.
Q.: What can you say about the Nano technology laboratory in the university?
A.: It is complementary, because there are strong skills, characterization and preparations for Nano materials and Nano particles there. So from our side, we have a special expertise in utilization. On the other hand, you can characterize, produce and design new materials and can provide the technology to test them. We have the site to test them. This is circle that we can consider closed in such way because we concept of design particles, use characterization or production of particles, technologies than use this particles and test on pilot plant, for example there is possibility to realize a pilot plant for small scale plant to test new technologies in all over the world, but we can test here because there are sites very interesting to do it.
Q.: How do you see the educational system in Azerbaijan?
A.: Regarding the structure, my opinion is that we have to work and discuss more to better understand how it is organized, because it is quite different from ours.
Q.: What benefits do you expect from the ECONANO project?
A.: First of all, three universities have already the possibility to establish a permanent agreement with European universities involved in the project. It means that, you have the possibility to exchange students and this will be very useful for PhD students because they will have the chance to attend European facilities and European labs, and share their knowledge. The same chances would be available for undergraduate students, because the main goal of our project is to establish double joint master degree. Double joint students graduated in Azerbaijan are the same as those graduated in Italy, France or Greece and vice versa. It is very important because we have the possibility to contribute to the formation of the students, both from Azeri side and European side.
Q.: As you know, Azerbaijan is an oil country. What advantage European universities being involved in this project can take from this?
A.: I see the collaboration very useful for both sides. Because when I say we share the knowledge it means that we may have some theoretical knowledge, but don't have the sites to test them. And one of my expectations from this project is to gather all proposals on different issues. Then we can sit for talks together as representatives from Europe and Azerbaijan and write the final proposal and test it by Nano-technologies based process, not only in laboratory but also in a real area of contaminated soil, a particular basin, in small scale. Then we can verify it in full scale.