How Armenian mine terror links to PKK?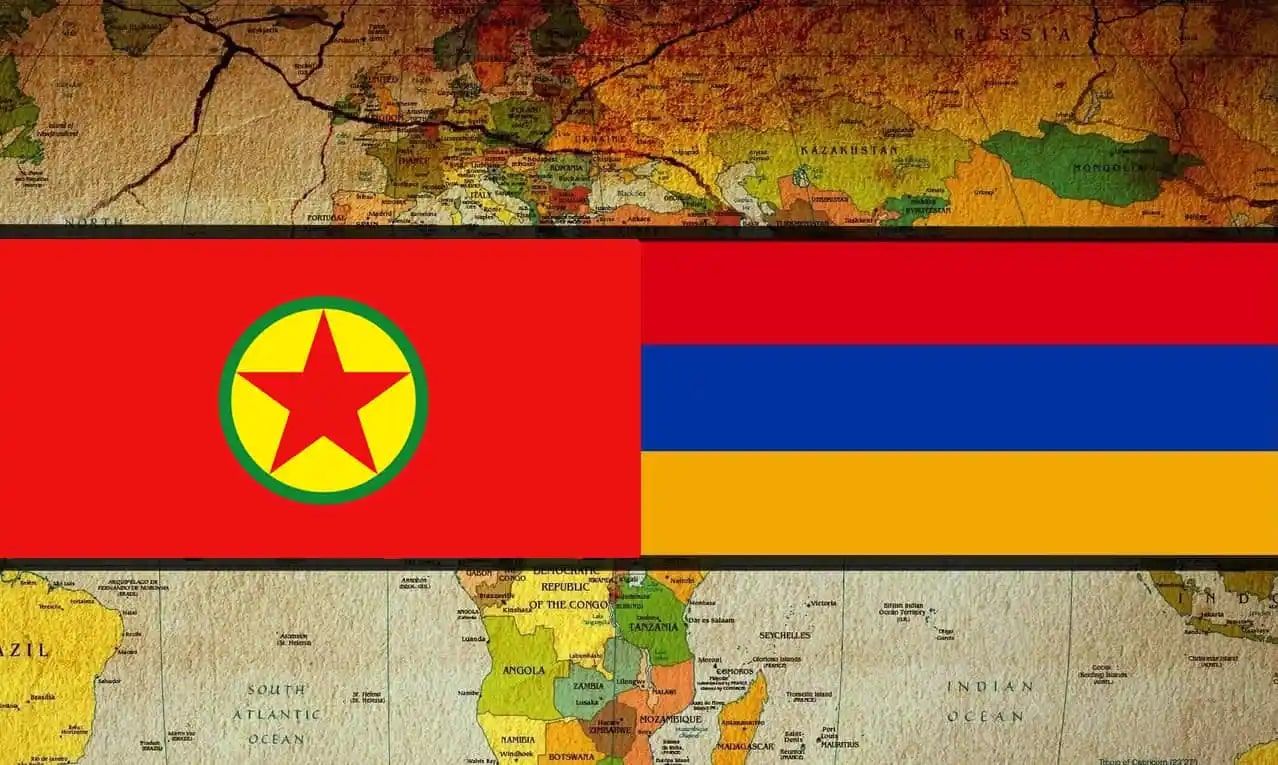 Landmine terror of Armenia against Azerbaijan continues.
On September 19, Azerbaijan woke up to successive heinous terror acts committed by Armenians in Fuzuli-Shusha highway in Khojavand, Azerbaijan's liberated territories. First, a Howo-branded truck belonging to the Azerbaijan Automobile State Agency hit an anti-tank landmine, that had been planted recently, while operating on the site. A driver and passenger died on the spot.
Immediately after this terror act, another vehicle that was taking policemen to the terror scene for investigation struck an anti-tank landmine and seven policemen lost their lives. The second terror act happened in the newly constructed tunnel and it proves that the second landmine has been planted recently, as well.
It is worth noting that Armenia has been conducting such kind of terror acts since the end of the Second Garabagh War. On June 4, two journalists and one civil servant were killed in a mine explosion on the road in the village of Susuz, Kalbajar district.
Besides, Azerbaijan several times stated that Armenian sabotage groups plant landmines in Azerbaijan by sneaking into the liberated territories. To top it all off, once the Azerbaijan Defence Ministry demonstrated the Armenian-made landmines manufactured in 2021 in the Russian-Turkish Joint Monitoring Group.
Needless to say, all these facts mean that not just the separatist regime in Khankendi but also Armenia as a state is hammering the last nails into its coffin. Because, all these facts prove that Armenia is a spoiled country which is deliberately violates all international rules and norms. It is not threatening only for Azerbaijan, but also for the whole region. First and furthermore, it should be mentioned that Armenia violates the conditions of the Ottawa Treaty which prohibits the usage, transport and stocking of all kinds of landmines. Pretexting the war with Azerbaijan over Garabagh, Armenia did not fully join the Treaty. Yerevan noted that he inherited land mine stocks from the USSR, and agreed that it would use only these landmines and would not acquire extra ones. It made commitments not to purchase, produce, export, or import landmines and not to allow a third party to transport landmines through its territory under the Ottawa Treaty. However, the terror acts happened on September 19, and previously, strongly prove that Armenia once again violates the Treaty endorsed by itself. We do believe that soon or late international actors will punish Armenia for such behaviors.
In addition, the tactic that Armenian armed groups use, more precisely sneaking areas and planting landmines, is a terror tactic used by PKK or affiliates in Turkiye and Iran. With the help of this tactic, PKK and its branches killed hundreds of civilians and militaries. Besides, It is no secret that Armenia cooperates with terror organizations from the Middle East, including PKK. YouTube is filled with videos that prove the participation of terrorists in the First and Second Garabagh Wars on the Armenian side.
On one hand, Armenia tries to get the affection of Iran, on the other hand, it cooperates with the terror organization that aims to divide not only Turkiye but also Iran as well. Iran several times conducted over-border terror operations and stroke PKK affiliates in Iraq like Turkiye. Thus, by cooperating with PKK affiliates, Armenia creates the legal base for neighboring countries, let alone Azerbaijan. It is crystal clear that neither Turkiye nor Iran will tolerate that their arch-enemy gets positioned in the South Caucasus.
In short, observing the last happenings in the region, some could conclude that the Armenian political leaders lost their minds. As the saying goes, they are sawing off the branch that they are sitting on. Surely, such kind of chaotic foreign policy will bring the end of Armenia.
---
Qabil Ashirov is AzerNews' staff journalist, follow him on Twitter: @g_Ashirov
Follow us on Twitter @AzerNewsAz