Moscow meeting: dead-end for Armenia's political move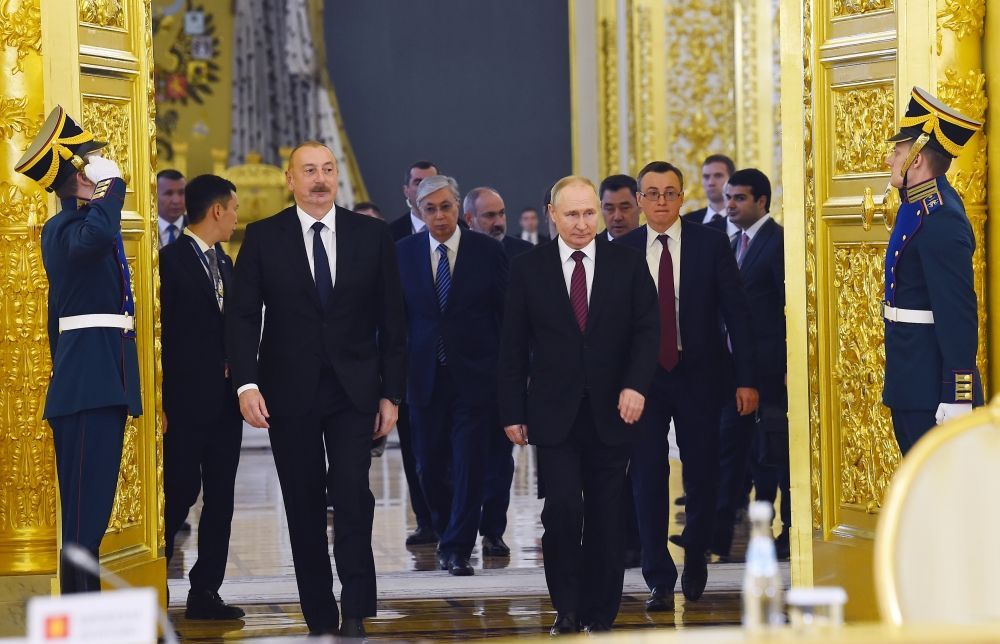 President Ilham Aliyev's speech at the meeting of the Supreme Eurasian Economic Council organized in an expanded format in Moscow, and his curt and sharp response to the baseless claims of Armenian Prime Minister Nikol Pashinyan once again demonstrated Azerbaijan's absolute power both politically and economically. Although the President of Azerbaijan was invited to the meeting in Moscow by his Russian counterpart Vladimir Putin as a guest, the head of state expressed his will to participate in the tripartite meeting of Azerbaijan, Russia and Armenia. Another meaning of this is that Azerbaijan has always supported constructive talks and intends to resolve pending issues with Armenia through negotiations.
However, it is also interesting to analyse what the avail of this meeting would be for Armenia. The answer to the question is very simple. First of all, Pashinyan's recognition of the territorial integrity of Azerbaijan and his acknowledgment that he will agree with Azerbaijan on any territorial issue indicates that Yerevan has no other way out. Until then, Armenia played with all cards, sometimes leaning towards the West, and sometimes towards Russia, which it constantly opposes in political principles. But all these efforts were in vain. Perhaps, Pashinyan could be a smarter politician if he would have made the right decision long ago on the issues of Karabakh and Zangazur for the sake of the economic revival of his country, which is much smaller than Azerbaijan in all matters. However, this does not exempt him from responsibility. Now, the desperate prime minister is witnessing that even the time he used to play with is turning against him.
Armenians already understand that the conflict in the region is not profitable for any of the leading states. Armenia, which tried to benefit from the occupation for years, could not do anything in the territories it tried to snatch off Azerbaijan. Because Yerevan did not understand that the biggest artery of those areas will still pass through Azerbaijan. Today, Zangazur is part of the Trans-Caspian International Transport Route (the Middle Corridor), and Azerbaijan is the main owner of such an opportunity. This is a reality, because it is a map shaped by geopolitical processes that can benefit all continents in the future.
It should be noted that Azerbaijan has close relations with the member countries of the Eurasian Economic Union in a bilateral format, except for Armenia. Also, Azerbaijan has a trade turnover of about 5 billion dollars with those countries. Depriving itself of all these opportunities, Armenia remained out of the dynamics of the world. Armenia, which has been left out of all large-scale projects so far, is facing the question of what I could achieve up until today... True to say, Pashinyan already fully understands this, and all his nervous facial expressions and actions at the meeting are not related to the reality of Azerbaijan before his eyes, but it was because of the wrong steps he has taken so far.
Armenia clearly sees and understands that Azerbaijan is a self-sufficient country with a stable economy and, unlike Armenia, does not need any support from abroad. The fact that Azerbaijan is in this situation allows it to conduct an independent foreign policy.
As mentioned earlier, Azerbaijan is an active participant in the East-West and North-South transport corridors. The Zangazur corridor increases the transit potential of the countries of the region and opens up new opportunities in the field of transport. Moreover, Azerbaijan has a modern transport and transit infrastructure. International seaport, Shipyard, modern large fleet, airports and aircraft are the core of its economic potential. In addition, export diversification is one of the main goals for Azerbaijan. Even the head of state emphasized this during his working visit to Lithuania.
Considering all this, today Europe, the West, as well as Russia see a country like Azerbaijan as the most successful partner. Azerbaijan's rapid progress in the reconstruction works alone surprises the whole world. Undoubtedly, moving towards economic success with such a partner is the dream of every democratic state running a rational policy.
At the Moscow meeting, Pashinyan remained within his limits for the sake of exhibiting the real Armenian position. He tried to answer the question about the Zangazur corridor and even threw some baseless claims on the table. But the answer was very unsuccessful. Because the answer given by President Ilham Aliyev reflected the interests of not only Azerbaijan, but also many countries partaking in that luxurious palace. For this reason, it was inappropriate for Pashinyan to use any words in this matter. In scientific theory, there is such an idea: parasites begin to destroy themselves after eating out the main substance. For 30 years, Armenia destroyed the entire infrastructure of Karabakh, paralyzed the roads, and blockaded itself. Now, despite being deprived of everything, it has started destroying a handful of Armenians living in both Yerevan and Karabakh. In the best case, Pashinyan should understand this, but unfortunately he does not.
It is not expected that any document will be adopted at the tripartite meeting, which will be held with the support of Russia. Adhering to its tradition, Armenia again showed that it was not interested in solution of problems within the concern of both parties. Of course, this may be due to the growing tension between Armenia and Russia. However, it is clear that there is no end to this for Armenia.
---
Elnur Enveroglu is AzerNews' deputy editor-in-chief, follow him on @ElnurMammadli1
Follow us on Twitter @AzerNewsAz