9 July 2014 15:58 (UTC+04:00)
1 214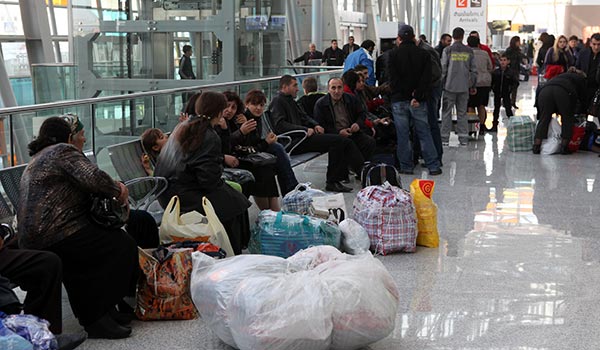 By Jamila Babayeva
While leaving their motherland, Syria, to Armenia, the Syrian refugees of Armenian ethnicity thought they would find a peaceful place to live at least for a temporary period.
Unfortunately, Armenia which is engulfed by lots of problems could not shelter these refugees as authorities are unable to provide neither them nor ordinary citizens with a normal life.
Over 50 percent of Syrian Armenians who moved to Armenia in 2013 have already left the homeland.
Some 4,500 Syrian citizens moved to Armenia in 2013, almost 2.300 of them have already fled from their homeland, as Armenia lacks normal living conditions.
Almost 20,000 Armenians have moved to Armenia since 2012 trusting President Serzh Sargsyan's empty promises on jobs and low-interest loans. Now, Syrian Armenians are finding it difficult to provide their families with a normal life. Moreover, most of them are still seeking a roof over their heads.
Armenia has turned into a country of disappointments for the Syrian Armenians, who are suffering from poverty and unemployment. These factors force the Syrian Armenians to leave their homeland where on third of its population are living in poverty.
Official statistics confirmed that Armenia was unable to prevent people's migration from the country during the first four months of 2014.
Some 41,109 people left Armenia through airports in January to April 2014 and have not returned back, the National Statistics Service reported.
The emigration from Armenia is expected to gain new momentum following price hike in electricity tariffs from August 1.
The Armenian authorities' motto "Armenia is a center of all Armenians" is losing its meaning. So, ethnic Armenians would have to follow President Sargsyan's recent call, who advised his compatriots living abroad to form their own impression about homeland. "If you cannot live in Armenia, you can live with Armenia," he said recently during a meeting with the Armenian community of Argentina in Buenos-Aires.
Pressing problems remain a challenge for Armenians increasing the number of Armenians who are obliged to live "with Armenia"...
Related News