31 July 2019 14:14 (UTC+04:00)
2 471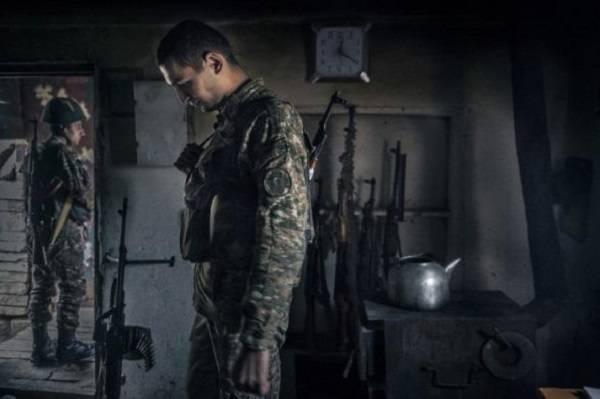 By Abdul Kerimkhanov
Hazing in the Armenian armed forces have long been no secret to anyone. Beatings, extortion, bribery and corruption still reign in the Armenian army.
Recently, the Armenian government made a "phenomenal" decision - it refused to recruit young men with mental disorders into the army. Thus, the authorities have acknowledged that previously they were recruiting such young men in the Armenian army. Taking such people in the army cost the Armenians a number of tragic incidents.
The recent incident in the Armenian army with the 19-year-old Yezidi Yuri Broyan with mental illness caused a great resonance. The soldier was beaten by the unit commander, after which he was transferred to the mental health center.
In general, due to the shortage of "cannon fodder", the Armenian military is forced to call on everyone. At first, they tried to solve this problem by recruiting women, then they began to take people with mental disabilities into the army. As a result, the number of deaths, beatings and other types of hazing increased in the Armenian army.
The aggressive and occupation policy of the Armenian authorities has led to the fact that people began to leave this country en masse. This led to a decrease in fertility, but even more, affected the poor social situation of people. Plus, total corruption, hazing, the arbitrariness of robbery and violence in the Armenian armed forces completely discouraged young people from serving.
In the first half of 2019, 425 crimes were registered in the armed forces of Armenia. Almost 52 of these crimes are grave and 14 are particularly grave. Moreover, the number of crimes against the freedom, honor, and dignity of the soldiers has increased.
Every year the Azerbaijan military becomes stronger, and the Armenia one, on the contrary, weaker, which is confirmed at the international level. Recently, the authoritative international organization Global Firepower Index placed Azerbaijan at 52nd place in the ranking of the military might of the world armies.
The Global Firepower Index assesses not only quantitative but also qualitative indicators of the army. According to its data, Azerbaijan, in terms of military power, is significantly ahead of not only its neighbors - Georgia (85th place) and Armenia (96th place) - but also many developed countries, such as Austria, Finland, the United Arab Emirates, Belgium etc.
This is not surprising, since Azerbaijan pays great attention to building the army, the military budget increases, modern types of weapons are acquired, weapons that are already being exploited are being upgraded, large-scale exercises are being held, highly qualified professional officers are coming to the armed forces, housing, service and social conditions of servicemen are improving.
Thus, the difference in the conditions of the armies of Azerbaijan and Armenia is becoming increasingly bitter for the Armenians.
---
Abdul Kerimkhanov is AzerNews' staff journalist, follow him on Twitter: @AbdulKerim94
Follow us on Twitter @AzerNewsAz
Related News