13 June 2018 17:12 (UTC+04:00)
1 066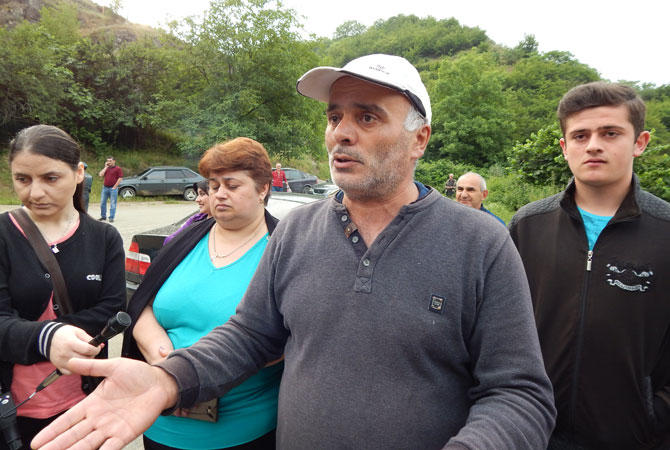 By Rashid Shirinov
For many years, Armenia's population have terribly suffered from unemployment. Presently, it is the highest among the CIS countries, making up 19 percent. The official data say that more than 200,000 of economically active people in Armenia are unemployed.
Early in the year, more than 1,000 residents of Teghut and Shnokh villages in the Lori province of Armenia lose their jobs. All of them worked at the Teghut copper and molybdenum mine until January 2018. On January 24, "Teghut" CJSC announced that it stopped the operation of the mine for an indefinite period and started dismissing majority of its employees.
However, given the difficulty of employment in Armenian villages and in the country in general, as well as due to law violation by the company, on June 11, the dismissed workers blocked the road to the plant and demanded to reinstate them.
During their protest, the villagers told reporters that they are suffering from the actions of "Teghut". The company misappropriated their land plots, the forest, poisoned the rivers that irrigate the gardens of the villagers, and as a result, deprived them of alternative opportunities to earn.
Now the reduced workers have no livelihood and found themselves in a difficult social situation. They have previously taken large loans in banks and cannot repay them.
The former employee of "Teghut" Anush Asatryan told reporters that they decided to block the road back on June 4. However, after learning about this, the company representatives invited the protesters to a meeting.
"We went there, but we are very sorry about this. They answered none of our question," the woman said. "Our land plots have been taken away, and now my child is hungry. We owe all the shops in the village."
Another villager reminded that "Teghut" had guaranteed operating for 50 years.
"Why did not they keep the promises? If the company is in a difficult situation, let the government assist so that the company resumes the work," he suggested.
Abo Avetyan worked as a builder in "Teghut" for many years. Now, after the dismissal, he does not know how to repay his loan.
"I took a loan to build a house. They do not even tell us when the company will start operating. If they did not take away our land plots, we could collect blackberries in the forest, sell them and survive somehow. But now there is a barbed wire around our lands," Avetyan noted.
The problem between the company and its former employees has been ongoing for almost half a year, but its solution is not found yet. The protesters are waiting for the intervention of the authorities, whilst the latter still does nothing for addressing the problem of the poor population.
---
Rashid Shirinov is AzerNews' staff journalist, follow him on Twitter: @RashidShirinov
Follow us on Twitter @AzerNewsAz
Category News