18 March 2016 10:31 (UTC+04:00)
6 506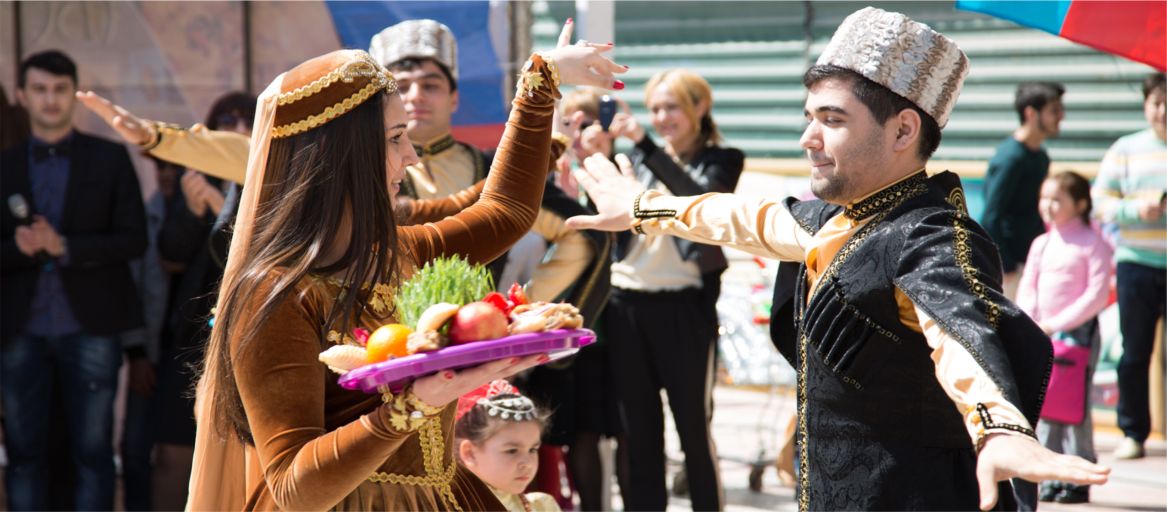 By Laman Ismayilova
We love the spring season, when holiday lights, Novruz decorations, colorfully wrapped presents and flavor of sweets overtake downtowns around the country. It's the time for a Novruz getaway, or maybe visiting relatives, preparing for baking cookies, and, of course, taking in local festivities.
Novruz, being a family holiday, is celebrated on March 20-21, and before the actual day of the holiday, people celebrate the four last pre-holiday Tuesdays. They are told to be celebrated as a good-bye to the Old year and a welcoming of the upcoming New Year.
Traditionally Novruz is marked in Azerbaijan with the annual festival, "Maidan Bazaar" set up near the Gosha Gala Gates for several days. Here, Baku residents and guests enjoy many interesting events, including the performance of wrestlers - Pehlevans , rope-walkers and magicians, as well as artists of the children's theater.
The event also features souvenirs and products of national craftsmanship and decorative arts.
During the festivities, the visitors will enjoy mugham and classical music pieces, national songs of different nations, modern pop and jazz music. Besides, the participants will be able to cook national sweets or wave carpets.
Speaking about the festival, Deputy Culture Minister Adalat Valiyev stressed that Novruz holiday is celebrated at the state level for many years.
This year's festivities will start from March 19 in the Baku Boulevard, he said adding that concerts organized in the area of the Clock Tower will begin at 11:00 and last till 19:45. Also, the Ministry of Agriculture will organize three-day fair here .
The Culture Ministry invites everyone to take part in Novruz Spring Festival.
Noruz holiday is rich with ancient traditions and games. 'Khidir Ilyas' (the symbol of fertility and blossom), 'Kos-Kosa'— an entertaining game (symbolises the incoming of spring) and fortunetelling are among them. The important Novruz symbols are khoncha (a tray with sweets, nuts fruits and dyed eggs on) and samani( green shoots from wheat seeds).
The holiday was given the status of an official holiday in Azerbaijan by a presidential decree dated 13 March 1990. In 2009, Novruz was included in the UNESCO Representative List of the Intangible Cultural Heritage of Humanity and since then, March 21 was declared the International Day of Novruz.
---
Follow us on Twitter @AzerNewsAz
Related News