Turkish Pegasus Airlines to launch direct Ankara-Baku flights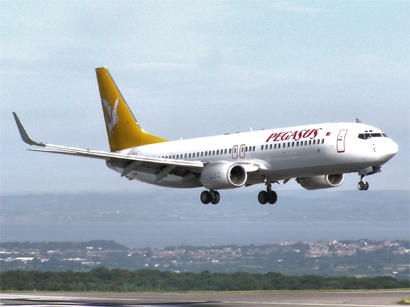 By Narmina Mammadova
The Turkish Pegasus Airlines will launch direct Ankara-Baku flights from March 15, the Turkish media reports on January 17.
The flights will be operated four times a week on Monday, Tuesday, Thursday and Saturday. The ticket price begins from $89.99. Tickets are already being sold.
Pegasus aircraft will fly from the Ankara Esenboga Airport to the Heydar Aliyev International Airport in Baku.
According to the State Civil Aviation Agency of the Azerbaijani Ministry of Transport, Communications and High Technologies, 21 airlines are represented in the country's market, namely, ATA Airlines, Montenegro Airlines, Etihad Airways, Air Arabia, Nordwind Airlines, Ikar Airlines, Ir Aero, Al-Naser Airlines, Pobeda Airlines, SalamAir, Komiavaiatrans, Jazeera Airways, Kuwait Wataniya Airways, Mahan Air, Taban Air, Israir, Arkia Israel Airlines, Flynas, Gulf Air, Nordavia Regional Airlines, Pegasus Airlines.
The Heydar Aliyev International Airport, located in Baku, Azerbaijan, is among 14 most beautiful airports in the world, according to the rating made by Curbed, an American real-estate blog network.
Located in the capital of Azerbaijan, the Heydar Aliyev International Airport terminal features giant wooden cocoons designed by Turkish architecture studio Autoban.
The Heydar Aliyev International Airport of the Azerbaijani capital has been listed among the top three unusual airports in the world, according to a Hi-Tech.
The publication notes that the main airport of Azerbaijan, which is one of the largest in the CIS, due to its unusual shape, is often compared to a bird with its wings spread.
In 2017 and 2018 Heydar Aliyev was also named the best airport among airports of Russia and CIS countries for the level of the provided services for the second year in a row and awarded the maximum rating of "5 Stars" according to Skytrax World Airport Awards.
Heydar Aliyev International Airport set a new record for passenger traffic volume - last year it served a total of 4.43 million passengers. This is 9 percent higher than in 2017.
In 2018, base airlines of the Airport - AZAL and Buta Airways carried 1.89 million and 442,000 passengers, respectively.
A total of 3.81 million passengers were carried on international flights and 620,000 passengers on regional flights.
33.4 percent of total number of international passengers accounted for AZAL, 11.6 percent for Buta Airways, 55 percent – international airlines.
In addition to AZAL and Buta Airways carrying out international passenger flights in 2018, the top ten airlines also included Turkish Airlines, FlyDubai, Aeroflot, UIA (International Airlines of Ukraine), Air Arabia, S7 Airlines, Qatar Airways, Utair, Lufthansa and SCAT. In total they served 1.15 million passengers.
The top ten most popular international destinations in 2018 included Istanbul, Moscow, Dubai, Kiev, Sharjah, Tehran, Baghdad, Tbilisi, Doha and Tel Aviv. Some 2.7 million passengers traveled to these destinations.
In total, last year 36 foreign passenger airlines carried out regular flights to Heydar Aliyev International Airport.
---
Follow us on Twitter @AzerNewsAz