20 February 2015 16:35 (UTC+04:00)
1 207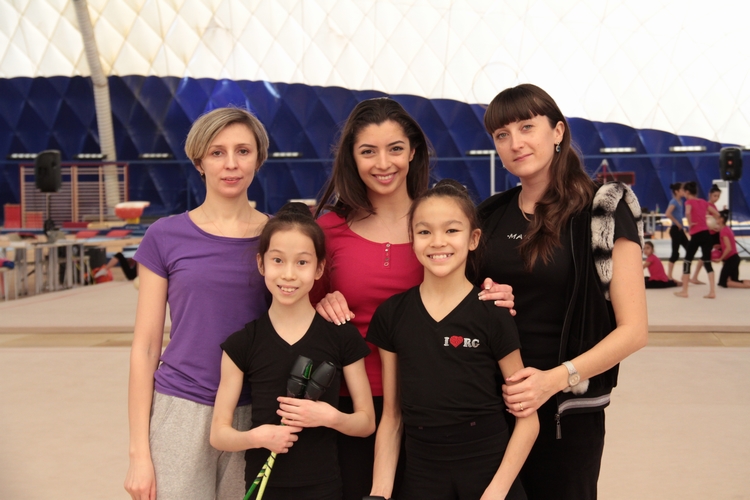 By Amina Nazarli
Two coaches in rhythmic gymnastics from Almaty and their students, representing junior national team visited for the first time the capital of Azerbaijan.
They are pleasantly surprised by the conditions created at the National Gymnastics Arena. Meanwhile, the young but experienced coaching staff of Azerbaijani national team impressed them as well. The guests have remembered Baku for its rich architecture.
Zarina Abdulkarimova and Olga Shuliko talked about their impressions in Baku in an interview with the press service of Azerbaijan Gymnastics Federation.
Question: Good morning! You are visiting our city for the first time. What are your impressions?
Zarina: If you are talking about the city - it is very chic. Especially the Old City, we liked it. We were taken to the museum. We also saw Maiden's Tower, and then we walked along the boulevard. Moreover, we noticed that you have built new, interesting buildings.
Olga: Actually, we did not expect to find the city so European. We arrived and were pleasantly shocked, as if we have arrived in a European city.
Q: Nice to hear this! What about our arena? Did you like it?
Z: I think that no word can describe my impressions. Everything is highly organized so that each person working in the Arena knows his/her duties. The discipline is ideal. Time flies by here.
O: Everything is carefully thought out there, huge rooms and excellent conditions. Everything adjusts to a productive workout. We are very surprised to see young coaches, who have been gymnasts themselves in the near past. They train their contemporaries, and what is most interesting – their students listen to them and do everything.
Q: Did you find out something new?
Z: Sure! Zhala Garatova, the coach helps us. We really liked the choreography and dances.
O: There were interesting elements, dance tracks and adjustments. Choreographers work very well.
Q:You are former gymnasts. Have the rhythmic gymnastics been changed since your time?
Z: Gymnastics has changed dramatically. It has become more difficult, artistic, and expressive. Moreover, the appearance of all the gymnasts has changed, swimsuits have become different, and the music has changed too.
O: Gymnastics are younger. Today the children at age 7-8 turn to this sport. At our time this age was 14-15.
Q: How was your transformation from a gymnast to a coach ?
Z: I had a dream to become a coach since my childhood. I didn't see myself in any other sphere.
O: Honestly, I did not want to be a coach. I worked with a group of improving gymnastics, and then I was asked to work on a girl-gymnast. After the success in this business, I realized that this is my vocation, my life.
Q: And what your gymnast are currently preparing for?
Z: Basically, for the local championships. The next competition is the championship of the republic to be held in March. Whether they will represent the country in the international arena depends on their hard work.
Q: What gymnasts do you like in Azerbaijan?
Z: I liked your senior group teams - both the composition and, of course, I loved the junior group team with their performance with a song by Michael Jackson. This performance made me crawl.
O: I really like Zhala Piriyeva; we watched her performances on the Internet, and here we have a unique opportunity to see live how she works. Moreover, Gulsum Shafizada is very colorful and luxurious.
Q: Are you planning to visit us in future?
Z: Sure!
O: We have already planned! (laughing)
--
Amina Nazarli is AzerNews' staff journalist, follow her on Twitter: @amina_nazarli

Follow us on Twitter @AzerNewsAz
Related News